Would you rather Thanksgiving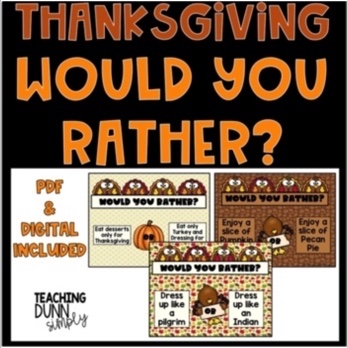 Would you rather Thanksgiving is a great game to play to get everyone in the festive spirit.  Would you rather Thanksgiving questions will have every turkey in your classroom rolling with laughter. Would you rather questions for kids is the perfect was to spend time with students along with have a little bit of fun.  
Would you rather Thanksgiving
Often Thanksgiving is a month that reminds us of the people, things, and places we are thankful for.  I don't know about you, but I am thankful for my job as a teacher and students.  Yes, this career is stressful and overwhelming but also incredibly overwhelming.  I say all this to remind you to take time to appreciate your students and spend time with them.  Spend time playing silly games, having relaxed conversations, and checking in with each student.  Investing in your kiddos is so important and hopefully will help build relationships too.  Playing silly, fun games like Would you rather for kids is a great way to build relationships.  
Would you rather Thanksgiving Questions 
Would you rather Thanksgiving will ensure your kiddos are ready for the Thanksgiving holidays.  Everything from Pumpkin pie to the Mayflower is included in this game.  Some of the would you rather Thanksgiving questions are funny and silly which is something you and students will appreciate.  
Would you rather Thanksgiving Edition
This would you rather Thanksgiving game is NO prep and requires nothing from you.  Would you rather thanksgiving questions are offered as Google Slides, so you can just simply assign to students.  Answer sheet is included with this resource.  You have two options when using Google Slides.  Option 1:  share the answer sheet with students.  Option 2:  Assign in Google Classroom and "make a copy" for each student.  If you are playing this at home with family, just share you screen and ask each question on each slide.  Answer sheet could still be used.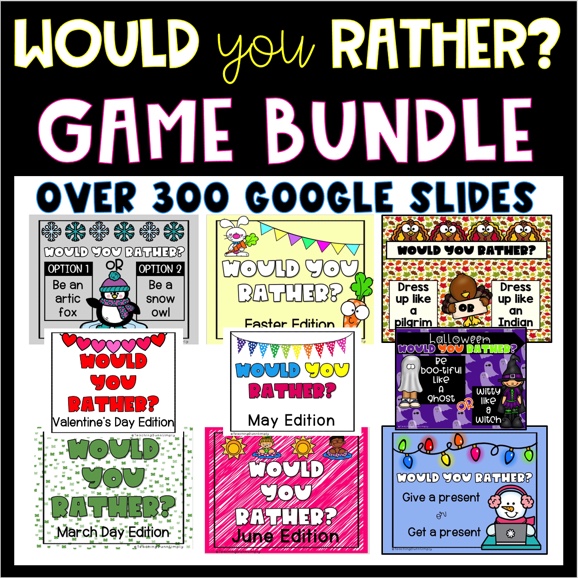 Looking for a great DEAL?  Check out this HUGE bundle of Would you rather Questions for kids?  over 300 Google Slides included!  Click here.
Whether you are wanting to use this resource at school or at home, here are a few tips.  (1)  Compare answers with a large group and see who has like answers. (2) Assign partners (3)  When a question is asked ask for a thumbs up or thumbs down.  Would you rather Thanksgiving questions is a versatile game.  You can implement to fit your needs and purpose.  
---

---