Would You Rather Halloween
Would You Rather Halloween will ensure your students have a spooktacular time during October.  Transform Fun Friday with this bootiful would you rather Halloween resource.  Would You Rather Halloween Edition will be the highlight of the season, trust me.  Would You Rather Halloween questions are fun, gross, and festive! I mean, what kid doesn't love answering fun and gross questions while answering would you rather questions?
Halloween Would You Rather
It's GAME TIME!  Halloween would you rather game time that is!  Would you rather Halloween Edition way to have some Halloween fun this fall with students. Halloween would you rather is always lots of fun for students! This is a fun and festive resource that is perfect for a Fun Friday activity. The Halloween season is exciting for kids and a time of the year many of us look forward to. Bring some FUN and lots of giggles into your classroom while using this fun Halloween Would You Rather game!
Whether you are looking for a fun brain break, indoor recess game, or something fun to play during a classroom Halloween party, would you rather Halloween is a great option.
Would You Rather Halloween Edition
Would You Rather Halloween Edition is offered as a PDF and Google Slides resource.  I offered two options for convenience and both versions are user-friendly.  Thirty questions are included with both versions, along with answer sheets.  The questions range from silly to scary to funny.  Students are sure to love the great variety offered here.  Each slide is full of Halloween colors and cute, festive clipart that is sure to put a smile on everyone's face. I don't know about you, but I love Halloween!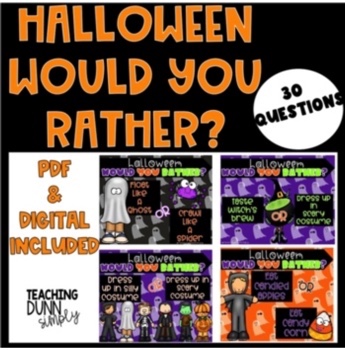 I don't know about you, but I love Halloween.  Not for the dark side of things; I just like the colors, fall weather, fun food, and spooktacular classroom resources.  Fall is a great time of year.  I feel my students are refreshed from summer break and have settled into the school year.  Games like Would You Rather Halloween allow me get to know my students better and build relationships. I am often surprised at their likes and dislikes and the game provides a great opportunity to learn more about them and their personalities.
Be observant while playing along with students. If you have notice a student who ask been acting "off" lately, really pay attention to their answers. Try to find similarities with the student and work towards building trust and establish a relationship. Hopefully if there are issues, the student will open up to you so you can help. 
Would You Rather Halloween questions are a resource my students enjoy the day before or on Halloween. My school district doesn't allow Halloween parties, so fun games like Halloween would you rather is perfect for my classroom. I mean who doesn't LOVE halloween?!
Would you rather Halloween
Enjoy the bootiful things...
The festive, bright-colored clipart is a teacher favorite.  Hundreds of teachers have used this resource and common feedback is the love for the design of this resource.  Each Google Slide pops with color and a friendly Halloween character.  To be honest, this Halloween would you rather game is a favorite of mine!
Make sure students are aware of your expectations before playing the game.  Explain the rules so they know what to expect and how to behave.  Remind students that this is a fun activity, but rules and expectations should still be followed.  Then...let the games begin!
You can implement this game playing as a whole group or pair students up.  Implementation is completely up to you and what works best for your students and classroom.  Again, play the game to fit your needs and just have fun with it! Happy Halloween!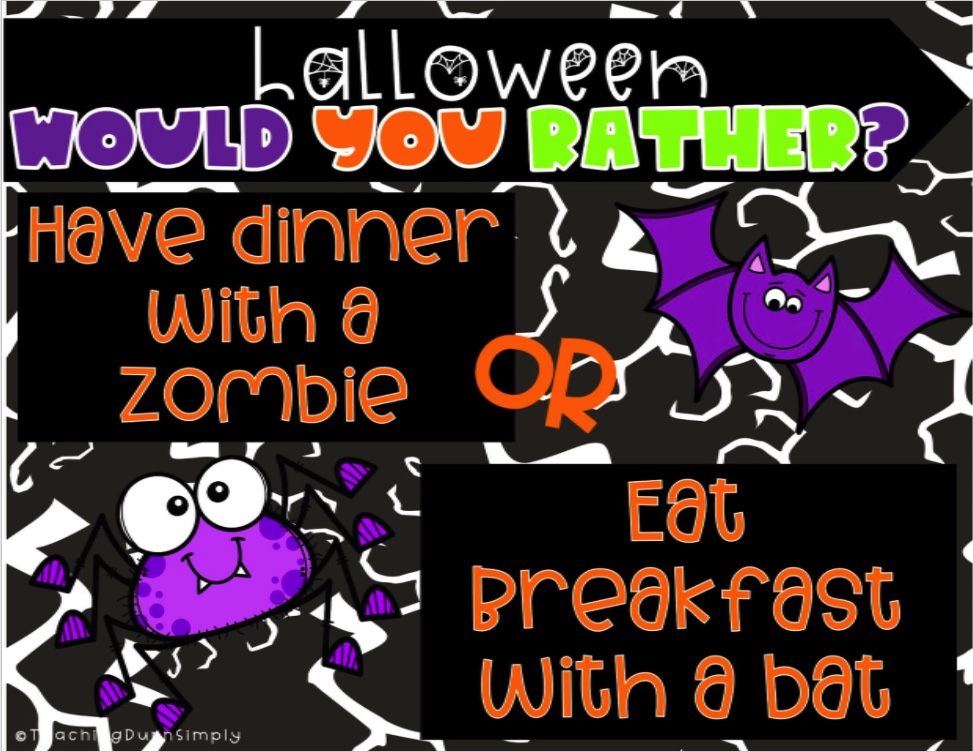 I hope you have a great time with your students using this resource.  Would You Rather Halloween questions are a popular favorite and have been for years.  Enjoy the season with your sweet students, and don't forget to have fun with them. If you want to really have fun, pass out a sweet treat or piece of Halloween candy for students to enjoy while playing along.  This is a great idea especially if students have earned or worked towards this as a reward. Play games like Would you rather Halloween edition are great behavior incentives!
Looking for a good money-saving deal?  Check out this HUGE BUNDLE of Would You Rather questions for kids?  Click here!
Looking for ideas to throw a Halloween party? If you answered yes, head over to One Stop Party Ideas to discover everything you need to throw an EPIC Halloween throw down at home or in the classroom.  Everything you need for a P-A-R-T-Y is just a click away! One Stop Party Ideas is my favorite party website!
---

---