End of the Year CELEBRATION
Here you will find end of the year activities perfect for ANY end of the year party, but...this year's celebration is going to be a difficult one for teachers and students. I can't believe it's already time to say goodbye, can you? 
Let's make this end of the year celebration a memorable one for you and your students!

End of the Year Celebration
Throw a Celebration Like NEVER Before
The end of the school year is an exciting time for elementary students, and there are many ways to celebrate their achievements and hard work. Some ideas for end-of-the-school-year celebrations include field days with outdoor games and activities, picnic parties with food and music, talent shows to showcase students' talents, movie days with fun and age-appropriate films, classroom game days for friendly competition, awards ceremonies to recognize academic and behavioral accomplishments, scrapbooking to preserve memories from the school year, ice cream socials for tasty treats and socializing, field trips to local attractions, and dance parties with music and decorations. These ideas provide fun and engaging ways for students to celebrate the end of the school year and look forward to a well-deserved break.
 If you are wondering how in the world you can still have an EPIC celebration for students, don't worry…I've got you covered.

Create a Class Video
Every celebration needs a video…or two! Make a video of memories for your class using the last day of school sign! Your students are sure to love this! However, you can also include pictures you have taken throughout the school year, yearbook pics, or whatever you have to work with. You can place each image into Google Slides. After you have made the presentation exactly like you want, click "present". Then, record your screen as you scroll through the presentation. I would recommend adding music. Turn on the song of your choice and have it playing in the background while the presentation is running. To record your screen, I recommend using the Google Chrome extension, Screencastify. Don't worry, this extension is simple to use and very user friendly!

Class Picnic
Host a picnic lunch in the school yard or local park where students can enjoy food, games, and music. This is a great FREE option for students to enjoy. The sunshine and hopefully beautiful weather outside is a great way to celebrate the end of the school year.
FUN Virtual Field Trips
| | |
| --- | --- |
| Have some fun and eat a delicious treat! Click here to check out this resource! | Let's Color! Click here to travel! |
| Students will LOVE this interesting Virtual Field Trip! Click here! | Disney World! This Virtual Field Trip is a must! Click here! |
If you are looking for fun end of the year activities, check out NO PREP Virtual Field Trips! You don't want to miss this.

FLIPGRID
Have you ever tried to make a FlipGrid? They are so much fun and would be a great choice for your end of the year celebration. Flipgrid is an excellent way to get students to create a short 30 second or less video of their favorite memories for this school year. After, you can compile the videos into one amazing walk down memory lane. Click here to find out more!

Personalized Student Videos
If you do not have pictures to make a class video, make student videos. Grab your roster and make a personalized video for each student. This right here will mean more to your kids than you will ever know. A positive, uplifting message from their teacher will leave footprints on their heart. Okay, that was a little sappy, but trust me…this is a good one. If possible, include specific details of funny or meaningful memories during the school year.

Host a Student Awards Show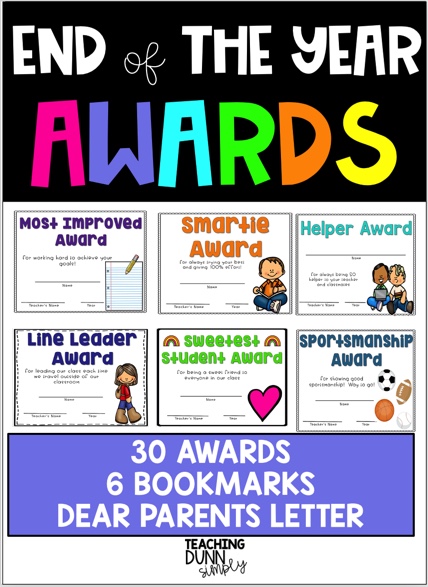 Pop some popcorn and celebrate student's accomplishments! You can use a students awards printable to help you with your EPIC end of the year celebration! Students will receive your super fun end of the year awards, just in a different way this year…digitally! Students love this end of the year activity and will miss it if you decide to skip it.

Fun Sunglasses
I love to purchase sunglasses for my students at the end of the school year. My students enjoyed wearing the glasses on Field Day and again on the last day of school. If you are able, mail each student a pair to wear on the last day with you. Click this link to check out the glasses!

End of the Year Celebration 
Digital Memory Book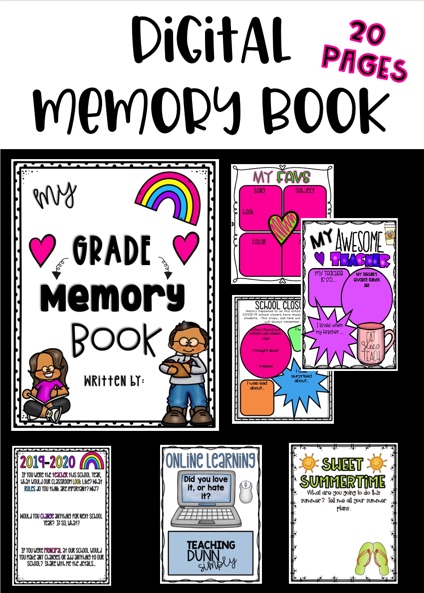 Every teacher on the planet includes some type of memory book for school for the end of the year rituals! Yep, me too! This year, provide your students with a fun memory book for school this year - it's just going to be DIGITAL! Click here to check out the End of the Year Memory Book for school in digital format. This resource is full of bright colors with many prompts for students to interact with.
An end-of-the-school-year digital memory book is a fun and creative way for elementary students to commemorate their school year. This memory book can be created using digital tools like Google Slides The book can include photos of students and their classmates, artwork, written reflections, and memories from the school year. Students can add their own creative touches to the memory book, such as drawings, stickers, and text. The memory book can be shared digitally with classmates, teachers, and family members to celebrate the end of the school year and look back on the memories made throughout the year. This digital memory book is a great way for students to reflect on their accomplishments and growth, and to celebrate their hard work with their community.
---

---