So, whether you are looking for ideas for Native American Craft Preschool  or Native American for 5th Grade projects, you are in the right place!
Native Americans of the Great Plains are resourceful people. These tribes found a use for every part of the buffalo. Native Americans would use buffalo to create tools, shelter, clothing, food, and much more. Honestly, I was so impressed with the many ways in which buffalo was used.

Native American School Projects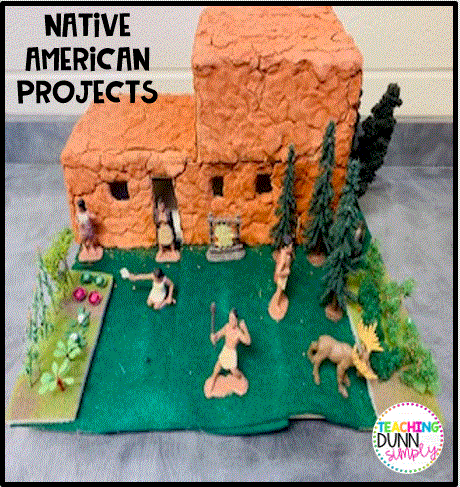 Native American School Projects will be so much fun for students! Trust me, they will make great memories while learning interesting facts while participating in Native American School Projects.  Students enjoyed working with different Native Americans tribes for their Native American projects.  The Native American tribes my students worked with are the ones outlined in the Georgia Social Studies Standards. These tribes were Inuit Native Americans, Kwakiutl Native Americans, Pawnee Native Americans, Seminole Native Americans, Hopi Native Americans, and Nez Perce Native Americans. Each tribe gave my students the opportunity to learn interesting facts and new stories my. I really enjoy teaching this social studies unit.

| | |
| --- | --- |
| These flipbooks were designed for each Native American tribe in order to present information in a different way.  I knew if I pulled chunks of content and presented it to my students, it would be easier for them to digest. So, I used one Native American tribe at the time to help students process the many Native Americans facts. | My students and I love working with flipbooks, especially in social studies. In the flipbook I also provide an opportunity for students to draw and give an extension of the lesson. My students are so creative! |
Native American Craft Supplies
When planning for Native American School Project, first decide what tribe the project will represent.  Then, do research on that specific tribe.  After, look around the house for items you can use and make a list of what native american craft supplies that need to be purchased.  Check out Amazon.com and Hobby Lobby.  Hobby Lobby has a excellent selection of sheet of sod for grass, Native American figures, buffalo figures, and many other options.  I wanted to share a few native american craft supplies that I found.  
This assignment of Native American projects excited my students.  Native American project letters and the project rubric were sent home and students were given 2 weeks to complete the assignment. At school I went into great detail with my students about the rubric so they would know what to expect. I was blown away with the amount of Native Americans facts and the many details students included in this social studies projects.

Native American Project Rubric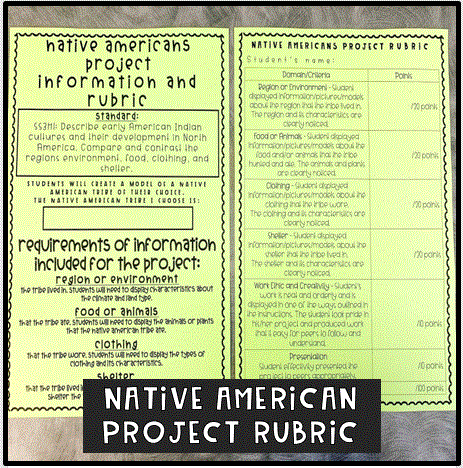 Are you looking for a ready-made rubric for your Native American Projects? I have done everything for you, just click and print! The Native American Project Rubric is available in my TPT Store!

< center>

Here are several photos of Native American projects. Way to go everyone! If you have assigned a similar project for your students, please share. Native Americans projects are fun, and my students really enjoyed this social studies project. Does assigning Native Americans Projects to make you nervous? Don't be nervous! Write down a list of what you want to accomplish overall for the project. Whatever you choose, write it down and start creating your rubric. Then, talk to your students about the Native American project and your expectations. Be clear of your expectations give examples of what to do and not to do. It is very important students have a clear understanding of your expectations so they can meet those expectations.


Looking for Native American activities?  Check out these engaging, standards-aligned flipbooks. My students love working with flip books and always find them useful when preparing for an assessment.  The following tribes are included in this Native American Activities Flip book BUNDLE...
Inuit

Kwakiutl




Nez Perce

Seminole

Pawnee

Hopi
Click below to learn more!

Teaching and learning about the lives of Native Americans is always fun and interesting!  I hope you enjoy these activities and get excited about Native American Projects as I do!  Good luck!  If you have any questions or need help, please email me at teachingdunnsimply@gmail.com
Share with us! If you have great pictures of cool, creative Native American projects, please snap a picture and email them to teachingdunnsimply@gmail.com. I would love to include them on this blog post and help others out. Thanks for sharing!
---

---