Native American Projects
Native American Projects
Native American Projects is always an activity my students enjoy! Check out these Social Studies Activities for kids to make learning fun and exciting. Native Americans for kids is an exciting standard to teach students! Native Americans are very interesting people with very unique cultures. My sweet students recently completed our Native Americans for kids unit.  Students learned concepts including Native Americans, Native American's history,  and Native American culture. My students found many Native Americans facts engaging as they were excited to learn more each day!

Native Americans Buffalo
Native Americans of the Great Plains are resourceful people. This tribe found a use for the buffalo in every way. Native Americans buffalo would create tools, shelter, clothing, food, and much more using the buffalo. Honestly, I was so impressed with the many uses of the buffalo as a resource to survive.

Hopi Native Americans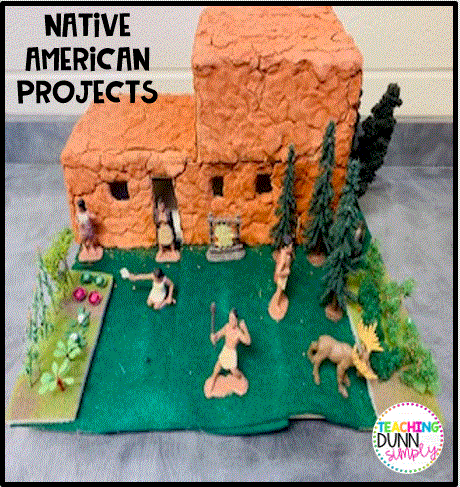 Students enjoyed working with different Native Americans tribes for their Native American projects.  So, the Native American tribes my students worked with are the ones outlined in the Georgia Social Studies Standards. These tribes were Inuit Native Americans, Kwakiutl Native Americans, Pawnee Native Americans, Seminole Native Americans, Hopi Native Americans, and Nez Perce Native Americans. Each tribe offers interesting facts and stories my students learned. I also enjoy teaching this social studies unit.

| | |
| --- | --- |
| These flipbooks were designs for each Native American tribe in order to present information in a different way.  I knew if I pulled chunks of content and presenting to students it would be easier for them to digest. So, I used one Native American tribe at the time would help students process the many Native Americans facts. | My students and I love working with flipbooks, especially in social studies. I also provide an opportunity for students to draw and give an extension of the lesson. My students are so creative! |
The assignment of Native American projects excited my students.  So, Native American Project letters and the rubric were sent home and students were given 2 weeks to complete. At school, I went into great detail with students about the rubric so students would know what to expect. I was blown away with the amount of Native Americans facts and details students included in their Social Studies projects.

Native American Rubric
Here are several photos of Native American projects. Way to go everyone! So, if you have assigned a similar project for your students, please share. Native Americans projects are fun, and my students really enjoyed this Social Studies project. Does assigning Native Americans Projects to make you nervous? Don't be nervous! Write down a list of what you want the overall accomplishment of the project to be. So, whatever you choose, write it down and start creating your rubric. Then, talk to your students about the Native American project and your expectations.

---

---