Teacher Summer Checklist 101:
End of the Year Checklist

It's time to create your summer checklist and get to checking off the list! I don't know about you, but I am incredibly ready for summer break. My students are ready and so is their teacher. 
Summer time Checklist for Teachers
Prep Now, Play Later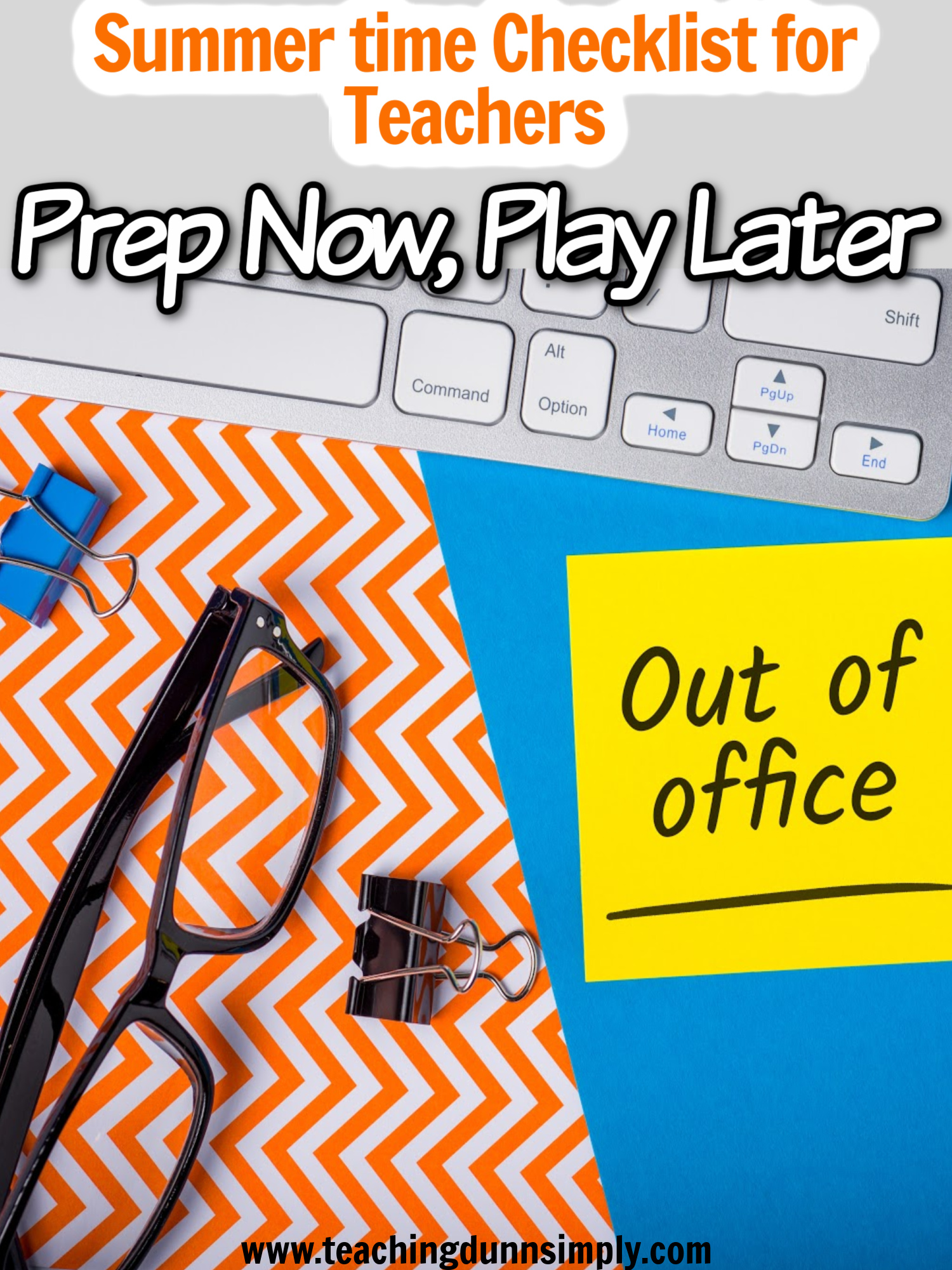 Another school year is in the books, and it's time to enjoy the sweet summertime. So, before you become a teacher on summer break, use the tips found here to get ready for the end of the school year. I am here to help you create your end-of-the-year checklist!

Summer Checklist for Teachers # 1
Classroom Cleaning Checklist
When I am preparing my classroom for summer break, purging is at the top of my classroom cleaning checklist! If you haven't touched something in a year's time, throw it out. This includes books, resources, decorations, etc. Wipe off all surfaces and make sure everything is nice and neat. Trust me, when you return in the fall, you will be glad the cleaning lady (aka you) made these efforts!
Summer Checklist for Teachers # 2
Declutter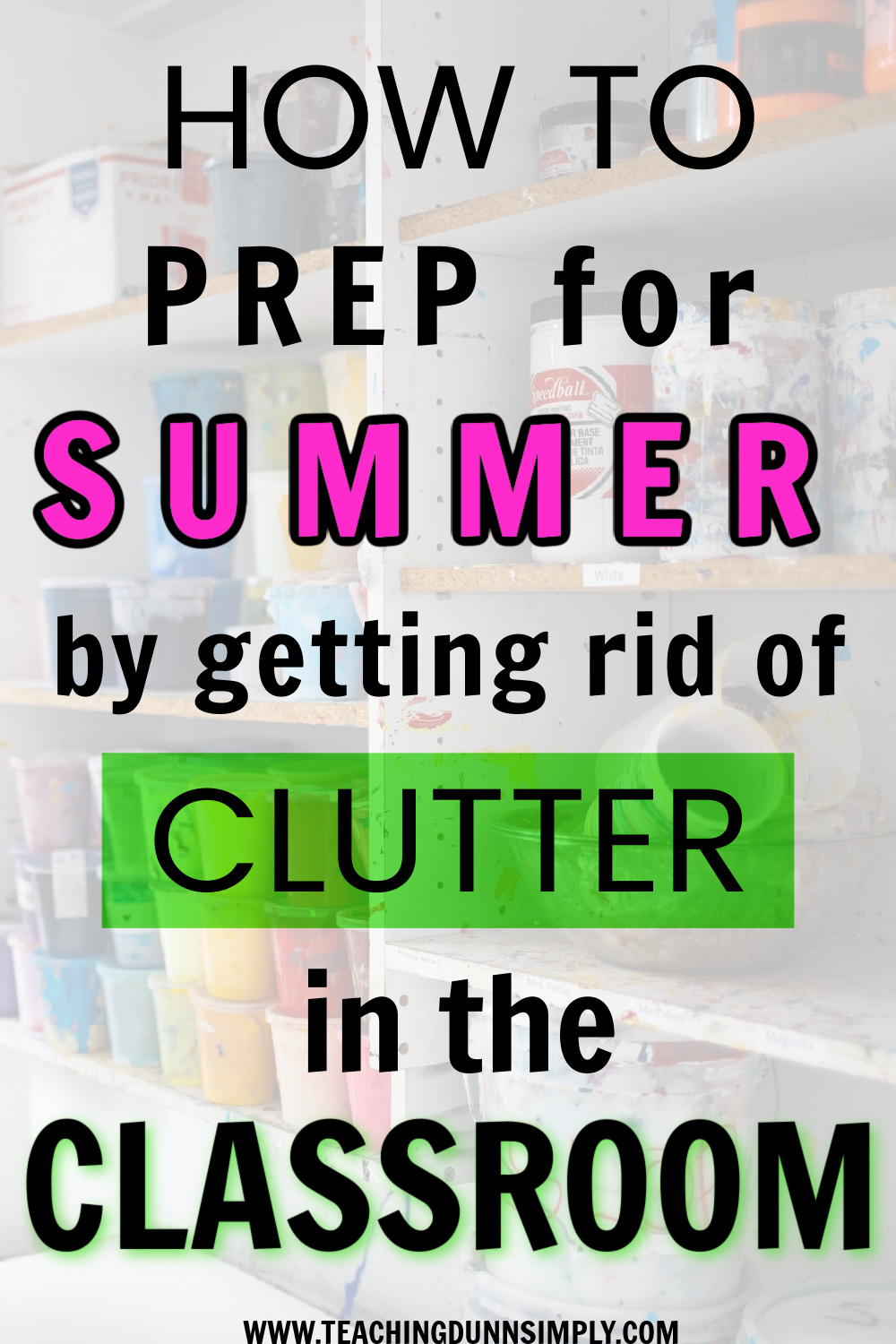 Take a step back and look at your classroom. Is it an overwhelming sight? Where is the clutter, and how can you get rid of it? If the cluttered area includes items that you do not wish to throw away, rearrange your room. Can you add a bookshelf to accommodate your needs, or can the items go in a closet or filing cabinet? When I first started teaching, I inherited a filing cabinet filled with old worksheets and resources that were very outdated. Clearing out the dated materials allowed me to store worksheets that I would use during the school year. This is an important part of a teacher's summertime checklist!
Summer Checklist for Teachers # 3
Digital Storage
To save space in your classroom, use digital storage. Scan graphic organizers, classroom resources, and classroom must-haves and store them on a USB or Google Drive. I love using my Google Drive because I can access it wherever I am. Every teacher works on school stuff during summer break. The convenience of Google Drive is nice, and you don't have to keep up with a USB drive. However, I store my most important classroom must-haves in both places to ensure I have a backup.
Summer Checklist for Teachers # 4
Organize Materials and Anchor Charts
Go through your math manipulatives and anchor charts, and organize everything. I like to store my anchor charts together. I store items by content area and use these containers with cute labels that match my classroom decor. For anchor charts, I roll up my anchor charts and put a post-it note on the outside so I can quickly identify each. I teach three subjects, so I use a different color post-it note for each subject. For example, math is a blue post-it note, science is green, and social studies is orange.

TEACHER TIP: I use coordinating colors for content in my classroom. This helps me and my students stay organized. I teach math, science, and social studies. Math homework is always copied on blue paper. Science study guides, important graphic organizers, and interactive notebook sheets are all copied on green paper. This process is the same for social studies, and I use orange paper for this subject. 
Summer Checklist for Teachers # 5
Student Work/Information
Be sure you shred, using a shredder, any student work or information sheets that are left behind after students have left for summer break. Anything with a student's name, address, or any other personal/confidential information should be shredded.
Summer Checklist for Teachers # 6
Next Year
What can you do to get ready for next year? You know you will need a meet the teacher letter, supply list, open house treats, etc. Make whatever copies you need now. Each of these can be prepared ahead of time. Go ahead and work on this now. I teach 4th grade, so after my students are finished with state testing, I always start looking at the school year ahead. I use this time to reflect on what worked, what didn't, and what changes need to be made for the next school year. I wanted to share my classroom cleaning checklist to help save you some time and energy as the school year is winding down.
If you are changing out classroom decor, go ahead and print, laminate, and decorate! Teachers Pay Teachers offers hundreds of eye-catching options for classroom decor. I recommend Command Strips for hanging decor on walls. If you are wanting to hang decorations or group/table signs, I use these hooks tied to the fishing line.

TEACHER TIP: Add building classroom community to the top of your summertime checklist! Research activities to build classroom community and start the school year off right by implementing strategies and activities in your classroom. This is NOT time wasted and will help with classroom management and unwanted student behavior. 
CLICK HERE TO READ MORE ABOUT CLASSROOM COMMUNITY!
Summer Checklist for Teachers # 7
End-of-the Year Teacher Tired
Preparing for next year may sound like something that you just can't do yet. However, if you prepare now, it will help prevent you from becoming teacher tired at the beginning of the next school year. Well, let's face it; you are going to be teacher tired at the beginning of the next school year, but having prepared some things ahead of time will free up time for you to get other tasks accomplished. 
I know you are probably end-of-the-year teacher tired and deserve an EPIC summer break. I pray you rest well, smile a lot, and spend time doing everything your heart desires on your much-deserved summer break. Watch lots of Netflix, eat lots of chips and salsa, and eat dessert first! You have earned a break!

---

---