Build Classroom Community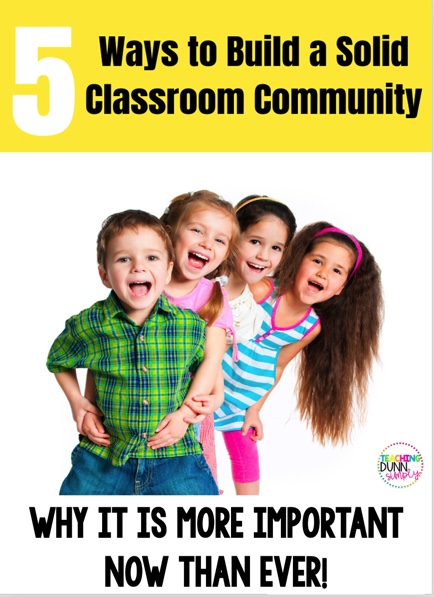 Build Classroom Community for students and learn to connect with your students is so important, but it's also just as vital that your students develop strong relationships with one another in a classroom community. Whether you have primary or secondary students, having a strong connection to school and their peers helps keep attendance high and students engaged. 

Build Classroom Community with Morning Meetings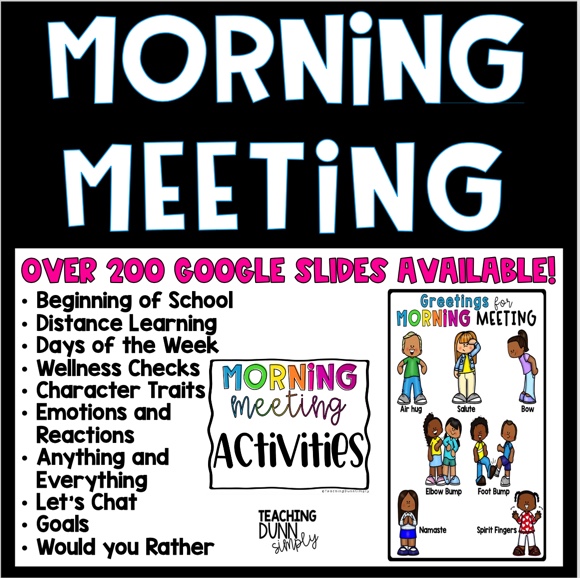 The first to build classroom community is with activities I implement in my classroom is the morning meeting. Start each morning with an icebreaker and light activity to take attendance and check in with your learners.
Morning Meetings is important to be implemented in all grades but I have found it especially to be special with elementary students. I have taught 3rd, 4th, and 5th grade and there is power in implementing this time with students. Upper elementary students go through a lot of changes and have to process emotions that can be confusing. Use morning meeting time to teach social emotional skills to teach how to process skills they will use as they grow. Play games, have fun, and teach skills that will benefit them forever. That is powerful dear teacher!
Who has time to create activities, slides, and content for morning meeting? Don't worry I've done all of the work for you! Keep reading...
Morning Meeting is a fun way to start the day in a positive, encouraging way.  This is a special time to build relationships with your students while providing opportunities to work on social-emotional activities. Here you will find some ready-to-use morning meeting techniques that I use with my students every day. There are several different options to start the day on the slides.

Joke of the Day
Would You Rather
Share Time
Tell Me Something Good
Let's Chat
The slides also have room for you to write a note to your students or them to write a note to you. These editable slides also allow you to adapt the morning meeting to distance learning. Just share with Google Classroom or other online learning platforms.

Build Classroom community that will evolve naturally as you share and have fun with your students in the morning meeting.
STOP THE SCROLL!  Click here to find out more about How to Build Classroom Community

Build Classroom Community by implementing
Google Form Check-In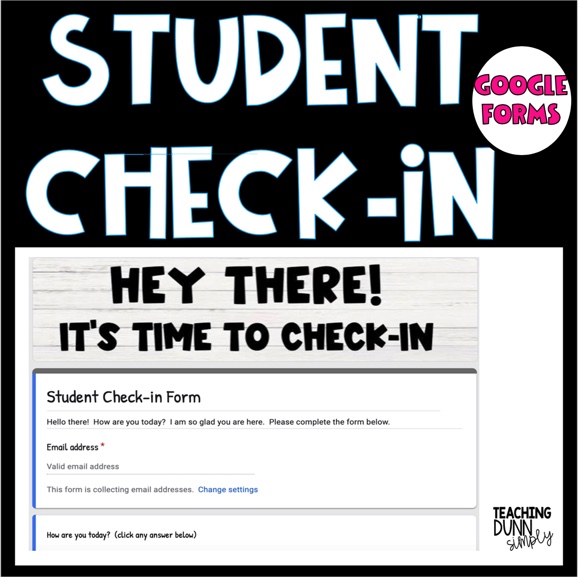 Student check in is SO important for you to implement. This is a quick, yet powerful way to check in on students. Students who may be process emotions, or a life event they don't feel comfortable talking about can open up to you this way. When I started implementing in my classroom I was BLOWN AWAY with what some of my students were experiencing that I didn't know. Some were experiencing bullying, parents were going through a divorce, loss of a pet, and such. Please take time to do a subtle check in with your students. I believe you can reach out and help in ways that can be life changing or even life saving.
I use this once a month in my classroom and also during distance learning. Google Form made it easy for answer questions and easy for me to read. Here are a few of the questions... (each month has different questions)

How are you today?

How do you feel the school year is going for you?

If you could change one thing about this school year, what would you change?

Is there anything you want me to know. (anything at all)

Is everyone at school showing you kindness and respect? If not, please explain. It's so important we treated everyone with kindness and respect.

Are YOU showing kindness and respect to others at school? If not, please explain. Remember, how you treat people tells how much you care about them.

Can you think of anything you need or anything I can help with? I care about you!

What time of day is your favorite?

What are you grateful for?

What are you struggling with? ( you don't always have to be struggling. If you are not struggling, just type NONE)
If you are back in school, you can adapt the question (#5). Whether you're teaching from home or in the classroom, this works! Since you are the one who receives all the Google Form data (via Google Sheets), it may seem like it's just a relationship builder between teacher and student. However, when you know what your students are going through in and out of the classroom, you can address their social-emotional needs to build the classroom community!

Take the Classroom Community
Kindness Pledge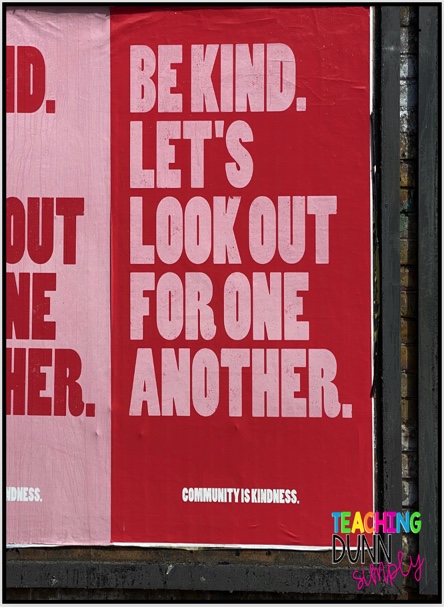 Building a community of learners should start at the beginning of the school year. Incorporate Classroom Community Activities today!
Building a community of learners begins with kindness! Talk to your students about what it means to be kind and share these kindness activities in your classroom!

These ready to use activities include lessons on kindness, bookmarks, "caught being kind" tags, kindness posters, and more! Most of all, your students can sign the Kindness Pledge and promise to implement the ways they brainstormed to be kind.

Character Trait Journal

Teach your students about character traits that help build a strong community of learners and kind people! This digital character trait journal focuses on the following character traits:
Respect
Honesty
Kindness
Determination
Humility
Gratitude
Responsibility
Cooperation
Caring
This build classroom community activity helps your students explore different character traits and how they can exhibit them at home and school!
Calm Down Corner

Building a classroom community with a calm down corner! Provide students a safe place to de-escalate when needed!
If self-care is essential for teachers, it's just as important for kids in your classroom community! When your students start to stress, rather than send them to the office or a time-out, take the opportunity for calmness.

When students utilize a Calm Down Corner and reflection pieces that go with it, they'll be able to be better participants and active members of their classroom community! A "Chill Spot" is a place where learners can regroup and reflect. Try one out in your classroom.

Focusing on character and social-emotional learning can help your classroom community grow strong this school year. Start by implementing some of these tips and strategies to help your students have a positive learning experience and build connections at school. 

---

---