Morning Meetings or class meetings are a great solution to building a classroom community. How do you know if you need to build up your classroom community? Here are a few questions to consider...What type of relationship do you have with your students? How well do you know your students not considering academics? Do your students trust you? Are students clear of your rules and expectations and do they work towards achieving your expectations? Is your classroom chaotic and full of noise and disruptions that hinder student learning? If you answered yes, you should consider incorporating these activities into your classroom.
Take time to invest in your students. You have one school year with them, do not take that time for granted. Build and pour into building relationships with your students. These activities offer great opportunities to build meaningful relationships with students. Plus your students get to know you as well.
Morning Meetings are a great chance to review if things aren't going well. If students are forgetting to write their names on their paper or getting up without raising their hands, use this time to discuss with your class.  Teach students a variety of character traits, kindness, respect, responsibility, etc. If you are looking for upper elementary morning meeting ideas, think about what your students need. I teach in a low-economics area so discussions about showing kindness, offering a helping hand, how to handle money, showing respect, are all important. You know your students and aware of their needs so use this time to neuter your class.

Morning Meeting Greetings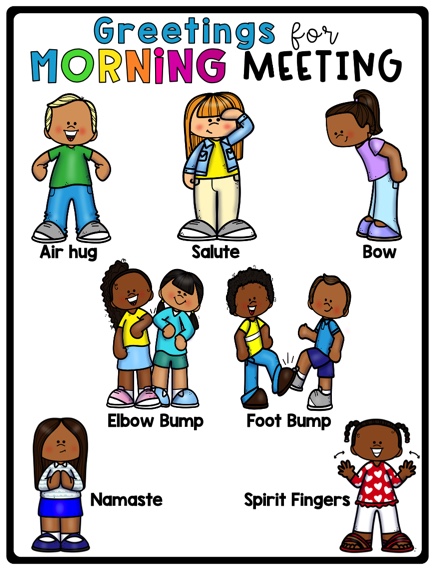 Morning Meeting Greetings are fun ways to start the day. You can request your students still in a circle or stay at their desks if you are working with upper elementary students. If you choose for students to sit in a circle you can ask them to turn to their neighbor sitting on their left or right side and say, Good morning, friend! How are you today? Have fun with this and be intentional with who students are near during this time. If you have a shy student, try to pair them with someone they are comfortable working with. BE CREATIVE with your greetings!
ONLINE TEACHER TIP:  If you are teaching online, don't worry! Each greeting mentioned in the picture above can certainly be applied in an online classroom.  My advice would be to ask students to choose one of the greetings that doesn't require a partner and use it.  Then say after I count to 3, greet someone.  If you are using Zoom, you may want to unmute students for greetings.  On the other hand, if you are teaching students to quietly greet each other or want this to be a structured time, mute students until they get the hang of it.  
Morning Meeting Activities
Here is where you can customize Morning Meetings Activities. You can choose a read aloud, Morning Meeting Question for students to answer, partner activities, team building activities, discuss character traits or have open discussions about current content or world events. The choice is really up to you and the sky's the limit. You know what would work best for your students and for your schedule. Adapt as needed.

Consistency Counts!
Be consistent! Morning meetings can be so effective! However, you have to be consistent to get the full benefit. There is no magic amount of time either. Do what works best for your class schedule and students. I usually spend 5 minutes checking in with my students, 15-minute activity, and 5 minutes wrapping it up. Again, customize your time to benefit you.

Morning Meeting Questions
Turn your Morning Meeting Questions into one of the most important parts of your day.  Think character traits, social emotional learning, life skills, etc.  Consider topics and have conversations that will help students in their future life.  Give examples, situations, and scenarios for students to think through.  These questions do not have to be heavy unless you feel that is needed and I would suggest when you feel the timing works, throw in heavy topics to discuss.  
---

---