Morning Meeting Activities for Better Classroom Community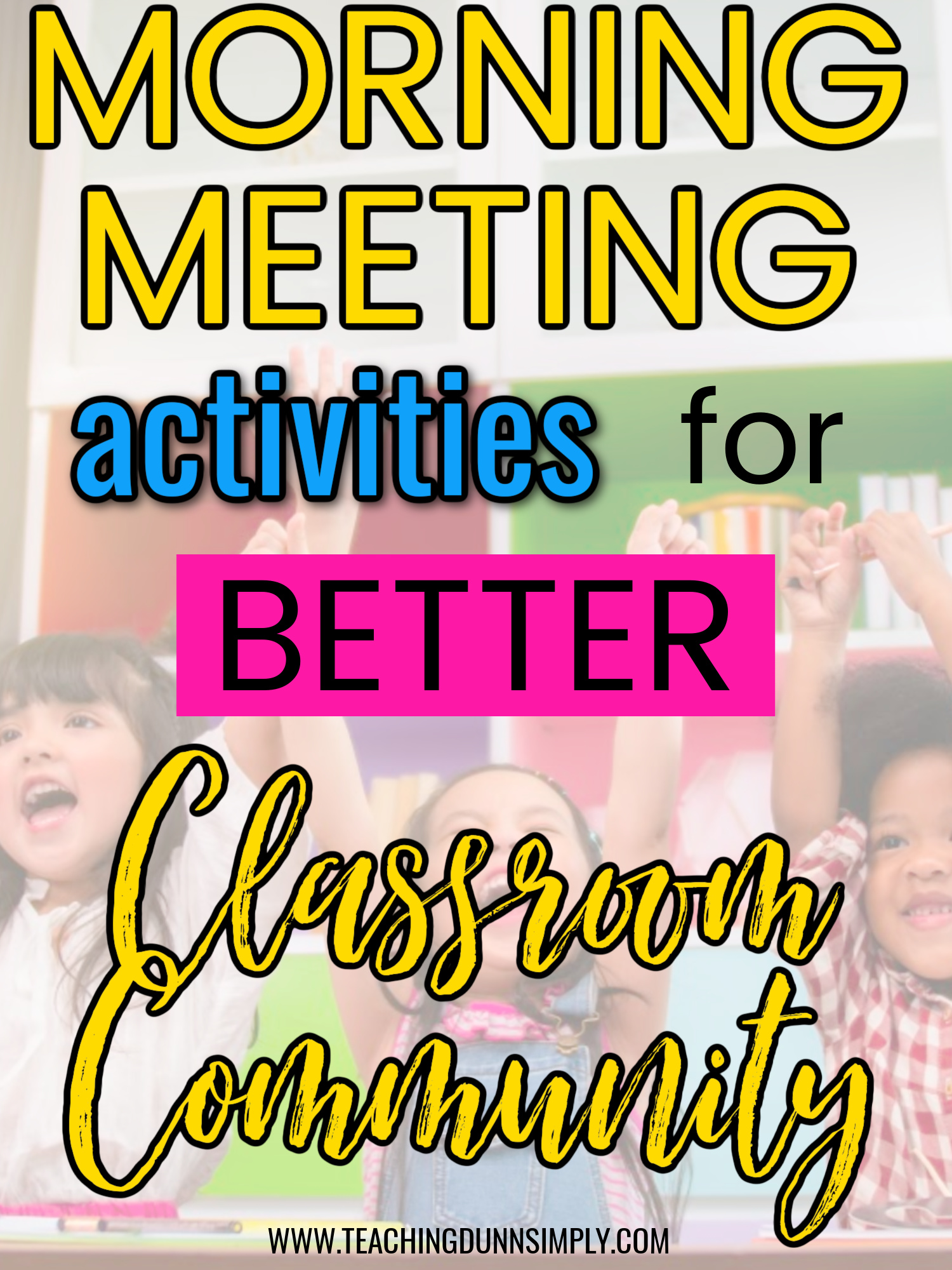 Morning meeting activities are so much fun for students. As a teacher, they give you the opportunity to have some fun with your sweet students, while also learning more about them. Some teachers may think implementing morning meeting activities will just be too much with all the other tasks teachers have to plan for, but allow me to change your way of thinking!  The ideas for morning meetings that you will find here are simple, easy to implement, and will flow with your daily schedule. They are also great for virtual morning meeting activities!
Ideas for Morning Meeting
I love morning meeting time! When creating ideas for morning meeting, I like to think about what I want to learn about my students. Also, I consider morning meeting activities and games that I know my students will enjoy. I look at morning meeting activities as an opportunity to take a step away from content, look at other skills, and have fun. Set goals that you would like to accomplish during this time. Think about whole learning and the learning gaps of your students. 
Morning Meeting Activities
Character Traits
Focusing on and promoting character traits make great topics for morning meeting. Evaluate your students and focus on the character traits that need the most work. I would highly recommend looking into social-emotional skills and incorporating those skills as well.  Again, use this time to get to know your kids and help with their emotional needs.
Four Corners
Four Corners makes a great morning meeting activity! Designate 4 corners and label them: Strongly Agree, Agree, Disagree, and Strongly Disagree. Ask students questions and have them answer the questions by walking to that specific area. You can choose to ask silly or funny questions or questions related to content. The choice is yours!
STOP THE SCROLL! Are you looking for morning meeting ideas, games for morning meeting, and morning meeting activities, all wrapped up into ONE resource! Hurry, click here!
Save Fred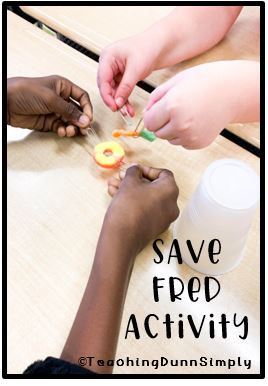 Save Fred is a student favorite! My students adore this activity each year and always ask to play again! I personally love this activity because it's great for team building and students have to think outside the box. Another great thing about this one - it's affordable because all supplies can be found at the dollar store!
Weather Reporter
Have a student play the role of a weather reporter. They can look outside the window and describe the weather for the day, or you can have a weather chart where they can move a pointer to the appropriate weather condition.
Mirror, Mirror on the Wall 
Mirror, Mirror on the Wall is interesting for students and the teacher. You can print out a mirror or grab a few from the dollar store to use for this morning meeting activity. Have students say while looking in the mirror, "Mirror, mirror on the wall..." Then, students will say what they see. Obviously, students are going to start naming physical traits. However, encourage them to name other traits like strong, proud, friendly, etc. Morning meeting activities like this one are great to use over and over. This first round may not result in students truly showing self-reflection, but keep doing it. You will not be sorry!
Chit Chat Time
Do your students love having conversations? Not about anything specific, just about whatever seems to be on their minds. The Chit Chat Time morning meeting activity will help you help them get all that conversation out! SCORE! Taking advantage of morning meeting activities like this one will help reduce talking during the day! Plus, you get to learn more about your students. 
Virtual Field Trips
If you are not implementing virtual field trips in your classroom, what are you waiting for? Virtual field trips are my most favorite of all of the morning meeting activities you will find here. I love interacting with students and taking them to places they may never be able to experience. I also love it when I am able to tie it to content standards and relate directly to the content we are learning. If you are looking for more information about virtual field trips for kids, click here. 
Mystery Bag
Stop by the store on your way home and grab some small brown paper bags. Explain to students when their name is chosen they see if they can guess what's in the "Mystery Bag" filled with different objects. The chosen student will  pick an item from the bag and describe it to the class. The rest of the class can guess what it is. How fun does this sound!
Color Wheel
Color Wheel is a student favorite. This is a great get-to-know-your-students activity to help build relationships or for the beginning of school. Explain to students each color is a different category. I suggest using these categories:
Use this digital color wheel. You can customize the colors and use as many colors and categories as you would like. 
Directed Drawings
Directed drawings are fun and FREE! You certainly can't lose when implementing these into your morning meeting time. I recommend youtube.com to look for fun directed drawings. Be sure to watch the entire video before sharing it with your students. My favorite youtube.com directed drawer is Draw So Cute. Her drawings are age-appropriate and on-trend for students.
Go Noodle
Get students up and get them moving. Go Noodle is a great option for a quick movement morning meeting activity for students. This is a free activity and you can watch as many videos as you wish.
Journal Writing
Journal writing time is a great idea for morning meeting. Assign students silly or meaningful topics to write about. Ask students to write in a composition notebook and have them write in their journals throughout the school year. Students may act as if they do not enjoy this writing time, but trust me, they will quickly look forward to it.  Here are a few journal writing prompts:
If you woke up one day and had rainbow-colored hair, what would you do?

What if one day you came to school and your teacher was missing, what would you do?

What is your favorite animal? Pretend tomorrow you turned into your favorite animal. Write a story about it.

What would you change about our school if you were the principal?

Do you think it's important to have school every day?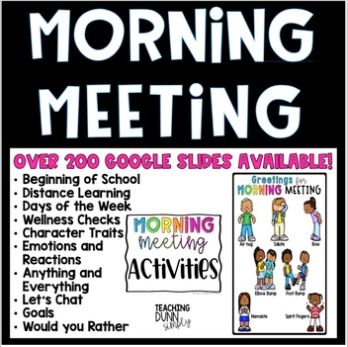 Morning meeting activities are the perfect way to start the day. If you are looking for more ideas for morning meeting activities, check out this resource. Everything you need for Morning meeting is included and offers over 200 Google slides.  Click here to learn more.

---

---