Help Save Fred
Help Save Fred is a super fun stem activity will help your students strengthen team-building skills as well as sharpen the following direction skills. 
Help Save Fred is a great stem activity for students!  Save Fred Activity is one that your students will always remember and enjoy. Each year my students always tell me how much they enjoy Saving Fred and love the challenge. You can choose to Help Save Fred at the beginning of school or during STEM time.

---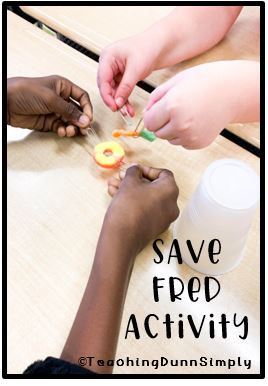 Are you looking for a science stem activity?  Are you searching for team building activities?  You can use this team building activity for youth or team building activities for team building activities for high school students.  This activity can be adapted for any age. Trust me, no matter the age of the student they will enjoy working through the challenge of Saving Fred.

---
Help Save Fred Stem Supplies
This back to school activity elementary is super affordable.  You can find all the items on Amazon or at your local dollar store!  So, the supplies you need are 5 oz plastic cups (clear), 2 jumbo paper clips (per person), peach rings or lifesavers, gummy worms or Trolli Sour Brite crawlers.  I have 18 students in my classroom this year. This activity was perfect as the first day of school activities elementary! However, I could totally see it working well as first day activities for high school students also!  I paired students with a partner and so they were in groups of 2. So, I used one pack of cups, 2 packs of peach rings, and Trolli Sour Brite crawlers. After the save Fred activity was over, students were able to enjoy the peach ring and gummy work.

---
Can you save Fred Activity?
Graphic Organizer
I gave students a graphic organizer to complete after the save Fred lesson was over.  You can find more stem information by visiting my Teachers Pay Teachers Store. Here you will be able to use and purchase this resource! Did you know you can earn FREE resources on Teachers Pay Teachers? Leave feedback on the resources you purchase and in return TPT will give you credits.

Are you searching for a great back to school activity?  The save Fred activity is a great one to choose.  The teacher can select students to work together or allow students to choose.  If you are looking for a team building activity you may want to choose for students.  
---

---