3 Tips to Create an   
EPIC Classroom Music Playlist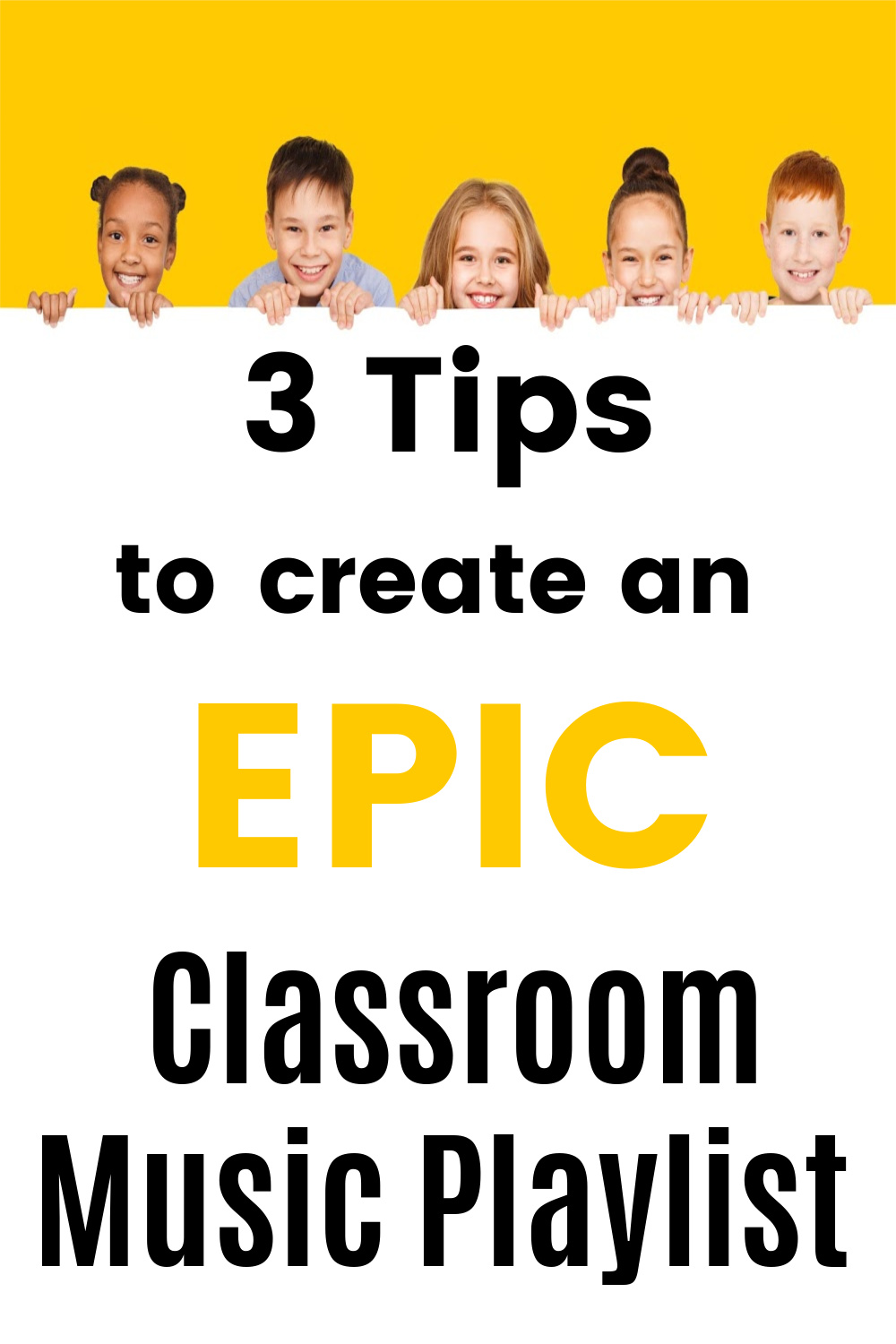 Do you want to build an EPIC classroom music playlist and integrate music in the elementary classroom? I don't blame you! Classroom music is enjoyable AND beneficial for students. Here you will find help to build a great classroom music playlist for students that is appropriate, fun, yet also safe and appropriate for school.
When building a playlist, think about the time or portion of the day you want to play music. I suggest beginning each school day with uplifting, music! A list of my favorite songs for morning music can be found below...keep scrolling! Trust me, when you begin integrating music in the elementary classroom, you will be more productive and so will your students. Also, when music is playing when your students enter the classroom each morning, they will forward to school each day.  
Benefits of Playing Music in Classroom
Consider playing classical music in your classroom. This is a great idea! My students enjoy listening to quiet classroom music and I've seen their productivity increase.  Assessment time is perfect for classical music. Classical music in the classroom helps to relax students while enhancing their focus. I also think it's important to have conversations with your students to ensure the music doesn't cause disruptions or distractions. If you don't want to play music while students are working, music for transitions in the classroom is a great idea! Be sure to choose upbeat songs that students enjoy listening to. Also, try and stay up with the trends of music depending on the age group of the students in your classroom.    
For some students with ADD or ADHD, music can be beneficial. Music can make it easier for them to continue to work productively.  I would consider keeping the music at a low volume and be selective with your song choices.  Classical music in the classroom is an excellent option.  

Use Amazon Music for
Classroom Music Playlist
First, let me share with you how much I love Amazon Music! Customizing each playlist is super easy and convenient, plus I can have a "school" playlist and a "personal/home" playlist. Did I mention this is a commercial free way to stream music. Yes, that is a big bonus! I highly recommend using Amazon Music when playing music for students. It is simple to use and very convenient.  You have the option to download the app to the device of your choice or simply visit Amazon Music.  You can create as many playlists as you wish while completely customizing each playlist. Amazon Music offers the option to continuously play whatever is on your playlist. Another great feature offered by Amazon Music is a variety of stations with preselected songs within that genre. This is a very useful feature when looking for quiet classroom music. Amazon Music is super affordable at only $7.99 monthly. Download the app to your phone and enjoy it with your family and friends when you are enjoying time away from school. If you do not wish to use your phone, use the website. 
Here are a few of my favorite Amazon Music Stations for classroom music: 
Kidz Bop Kids
Kid Classics
Disney Favorites
Disney Junior Favorites (Primary Age)
Classical Music
*Amazon Music will sync with Alexa. Simply says, "Alexa, play Amazon Music." You can customize Alexa to play whatever song or playlist you would like.  
Teacher Tip:  Use the "thumbs up" or "thumbs down" when a song is playing on an Amazon Music station. This will filter related songs for future listening.
Use as a Reward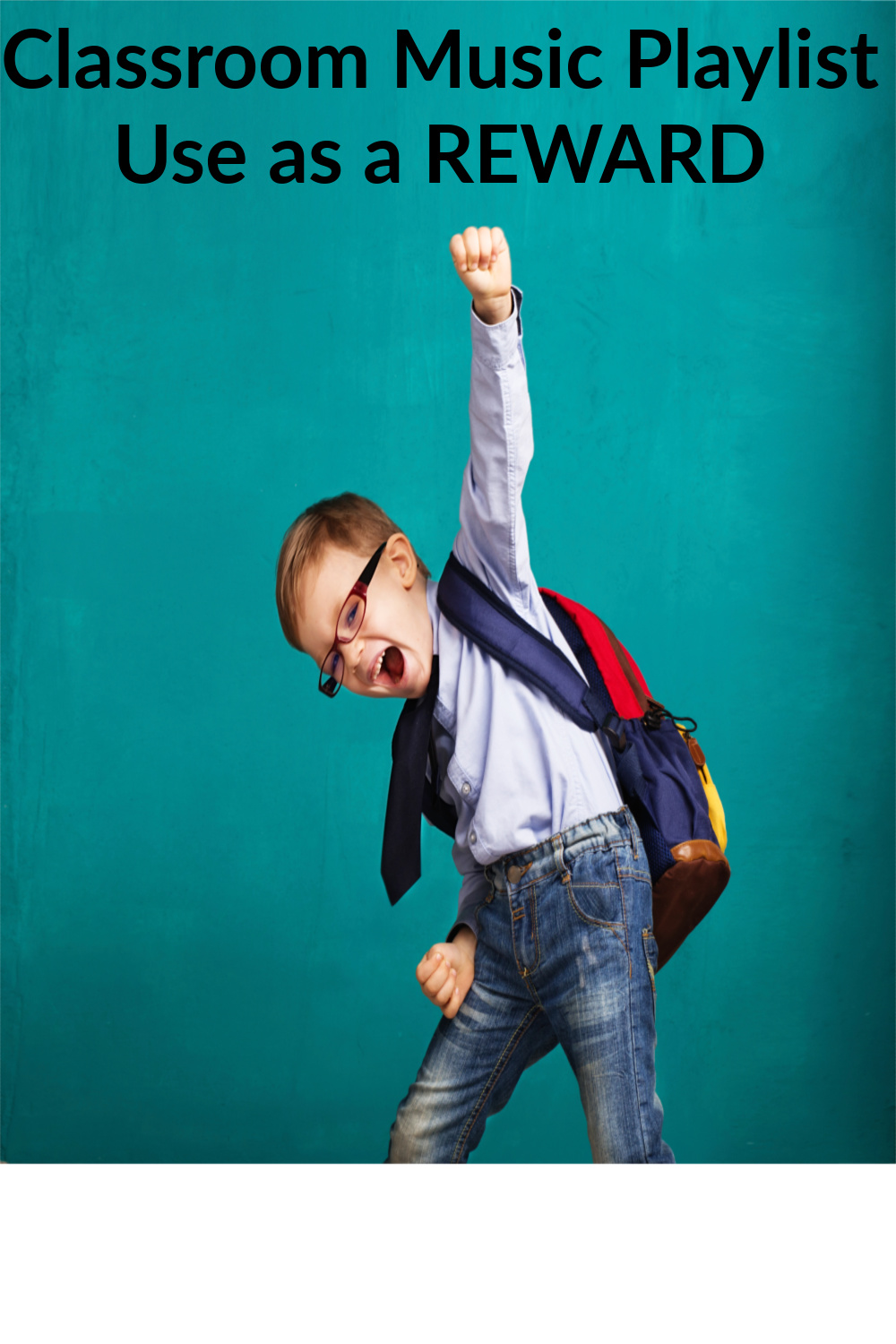 Have you thought of using classroom music as a reward for your students? Rewards can include individual or whole class rewards. The choice is up to you. See a student who is making good choices? Allow them to choose a song for the class to enjoy. (Take the student's request and listen to ensure the song is appropriate for school.) Have high expectations for your students and when those expectations are met, provide rewards. 

Music for Transitions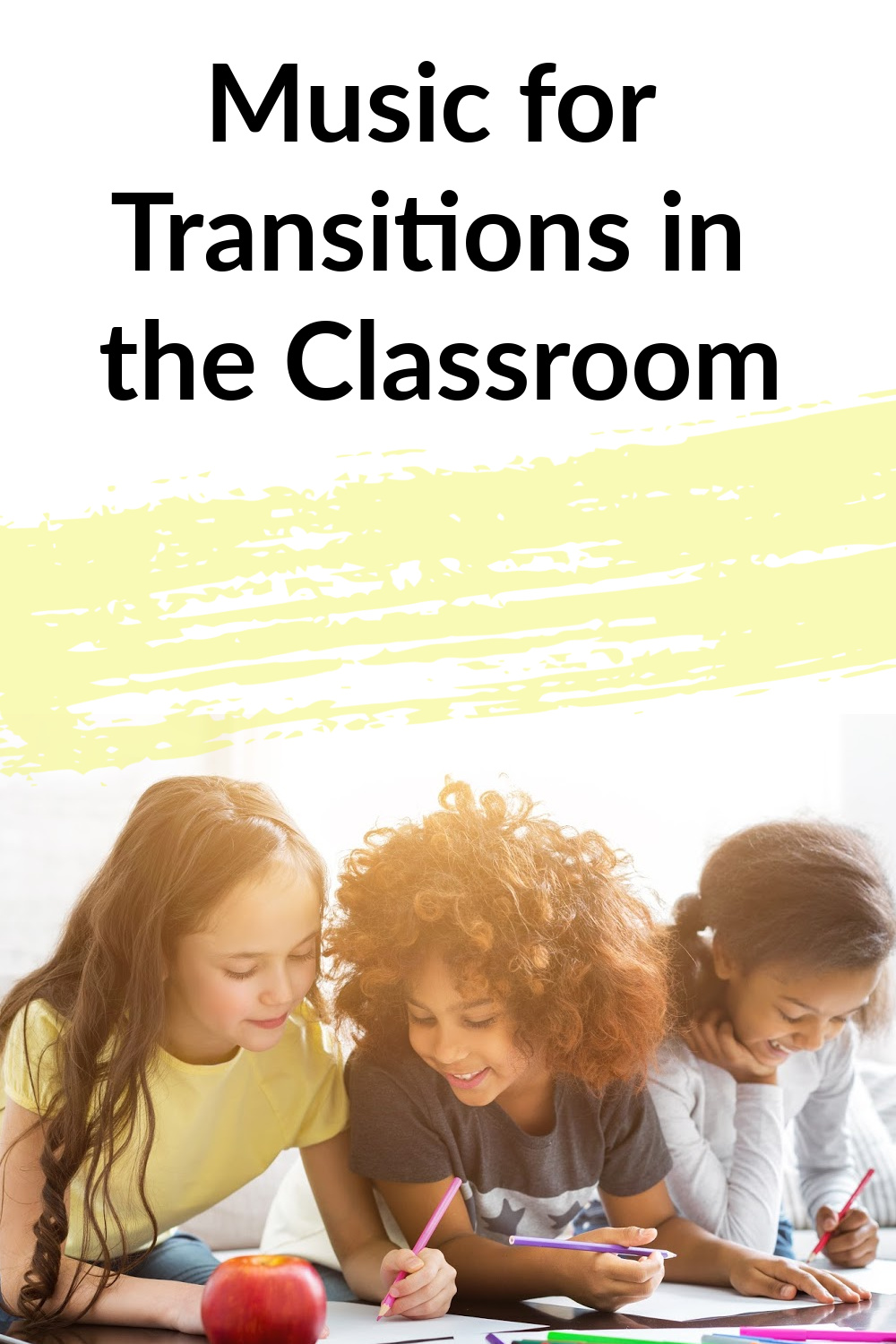 Music for transitions in the classroom will help ensure smooth and chaos free transitions. There are several options when integrating music in the elementary classroom especially during transitions.  

Play Music During Homeroom or Morning Meeting Time
Option 1:  Play music during Homeroom or Morning Meeting time.  Welcome students EACH day into your classroom or your online classroom with music.  Upbeat, positive, encouraging music can really turn someone's morning around.  Check out my favs:

"Good Morning" by Mandisa (*my absolute favorite)
"Walking on Sunshine" by Katrina and the Waves

"Wake Me Up" by Kidz Bop
"Get this Party Started" by Kidz Bop
"Girl on Fire" by Alicia Keys
"Happier" by Bastille
"Sunflower" by Post Malone
"Thunder" by Imagine Dragons
"Whatever It Takes" by Imagine Dragons
"We Are the Champions" by Queen
If you are interested in learning more about Morning Meeting or searching for Morning Meeting Activities, click here.
Center Time
Option 2:  Center time!  When you are ready for students to move to another center, play 30 seconds of a song.  Be sure your expectations are clear.  Check out my favs:
"I Like to Move It Move It" by Madagascar
"Shake It Off" by Taylor Swift
"Happy" by Pharrell Williams
"Can't Stop the Feeling" by Justin Timberlake
"All Star" by Smashmouth
"The Middle" by Kidz Bop
"Gangnam Style" by Kidz Bop
"High Hopes" by Kidz Bop
Transitions
Option 3:  Transitions!  Use music to indicate it's time to line up for lunch or recess, change subjects, change classes, pack up for the end of the day, etc.  The sky's the limit here.  Check out my favs:
"Party Rock Anthem" by Kidz Bop
"Don't Stop the Music" by Kidz Bop
"Boom Boom Pow" by Kidz Bop
"Whoomp (There It Is)" by Kidz Bop
"Chicken Noodle Soup" by Kidz Bop
"Best Day of my Life" by Kidz Bop
"I Like It Like That" by Kidz Bop
"No Brainer" by Kidz Bop
If you have a suggestion of a song that you and your students love on your playlist, please share with us! I will be happy to add it to the blog post.
---

---