Morning meeting games are a great way to start the day. You can choose content-related games or just-for-fun morning meeting games. No matter which you choose, students are sure to enjoy playing along. 
Morning meeting games can take up as much time as you wish. If you only have a few minutes to spare, that's fine. Also, games and suggestions I have for you are affordable and require little to no prep! Now, that's a win-win! An important part of games for morning meeting is to build relationships with students, have fun, and build classroom community.

Fun morning meeting games will surely get a laugh out of students. If you have a student that seems sad and doesn't have much to smile about, this time is for them. I have found that many of our students love school because they feel safe and loved while at school.
This one is a class favorite. Students love a good challenge and teachers love the fact that it's super affordable. All you need for this activity is a stopwatch, Solo cups, and a desk or table. Pair students with a partner or put them in a 4-man group. Set your stopwatch for 30 seconds. Explain to students they have 30 seconds to build a cup tower that stands on its own after the alarm goes off. Naturally, students are going to go tall with their tower, possibly forgetting they need a good, strong foundation. This is when you explain to students how the tower relates to them: we are working toward building a strong foundation of knowledge and skills they will use for the rest of their lives.
STOP THE SCROLL! Are you looking for morning meeting ideas, games for morning meeting, and morning meeting activities, all wrapped up into ONE resource! Hurry, click here!
Letters Game
The Letters Game is so much fun and a perfect game for morning meeting! Starting at the beginning of the alphabet, call out one letter at a time. Ask students to name something school- or content-related that begins with that specific letter. Students are required to be called on and MAY NOT go out of turn. This morning meeting game is perfect for following directions, waiting your turn, and recalling content and information.
Compliment Each Other
As a teacher, Compliment Each Other is a favorite of mine. Encouraging students to give meaningful compliments to one another is something special. A game such as this will help students build self-esteem and promote relationships within your classroom. Learning to give compliments to one another will reduce unwanted classroom behaviors and reduce students being rude or ugly toward one another.
Games for Morning Meeting
Would You Rather Game
If you aren't playing Would You Rather with your students, what are you doing? Just kidding! But seriously, this game is EPIC. Loads of fun and lots of laughs. There are so many options for this great morning meeting game! You can choose a seasonal game or a fun game like Would You Rather: Disney Edition. I guarantee, no matter which you choose, you and your students will have the best time!
Sparkle
Sparkle is a great game and ideal for morning meeting games because you can incorporate vocabulary words or math fluency facts. This makes it a great game for morning meeting.
Sparkle is a fun game that is mostly used as a spelling review. However, you can implement it in many different ways, even as a morning meeting game! For example, if you are reviewing character traits, you can play Sparkle to review examples of how to be a good friend or how to act in certain situations. The teacher will need to ask for a certain number of examples. Ask students to sit in a circle. One student starts answering the question. After a certain number of examples have been given (this is chosen by the teacher), the next student will say Sparkle. Then, repeat the process.

Around the World
Here's how you play Around the World. First, ask a question related to the content you wish to review. You can choose spelling words, vocabulary words, math facts, etc. Student #1 and Student #2 stand with each other. The teacher asks a question. Whoever answers the teacher's question gets to move on and compete with student #3. The rounds continue until all questions have been asked and all students have had a turn.

SPLAT
My students beg to play the game SPLAT. I love it because the cost of the only tool involved was one dollar! Talk about an affordable game. You can choose whatever topic you would like. Choose character traits, vocabulary words, spelling words, addition, subtraction, multiplication, or division facts, or any other content-related words. Write all words on the board. Create 2 teams of students. Taking turns, each student will race to "splat" the correct answer first. Students will rotate until all questions have been asked. 
Rock, Paper, Scissors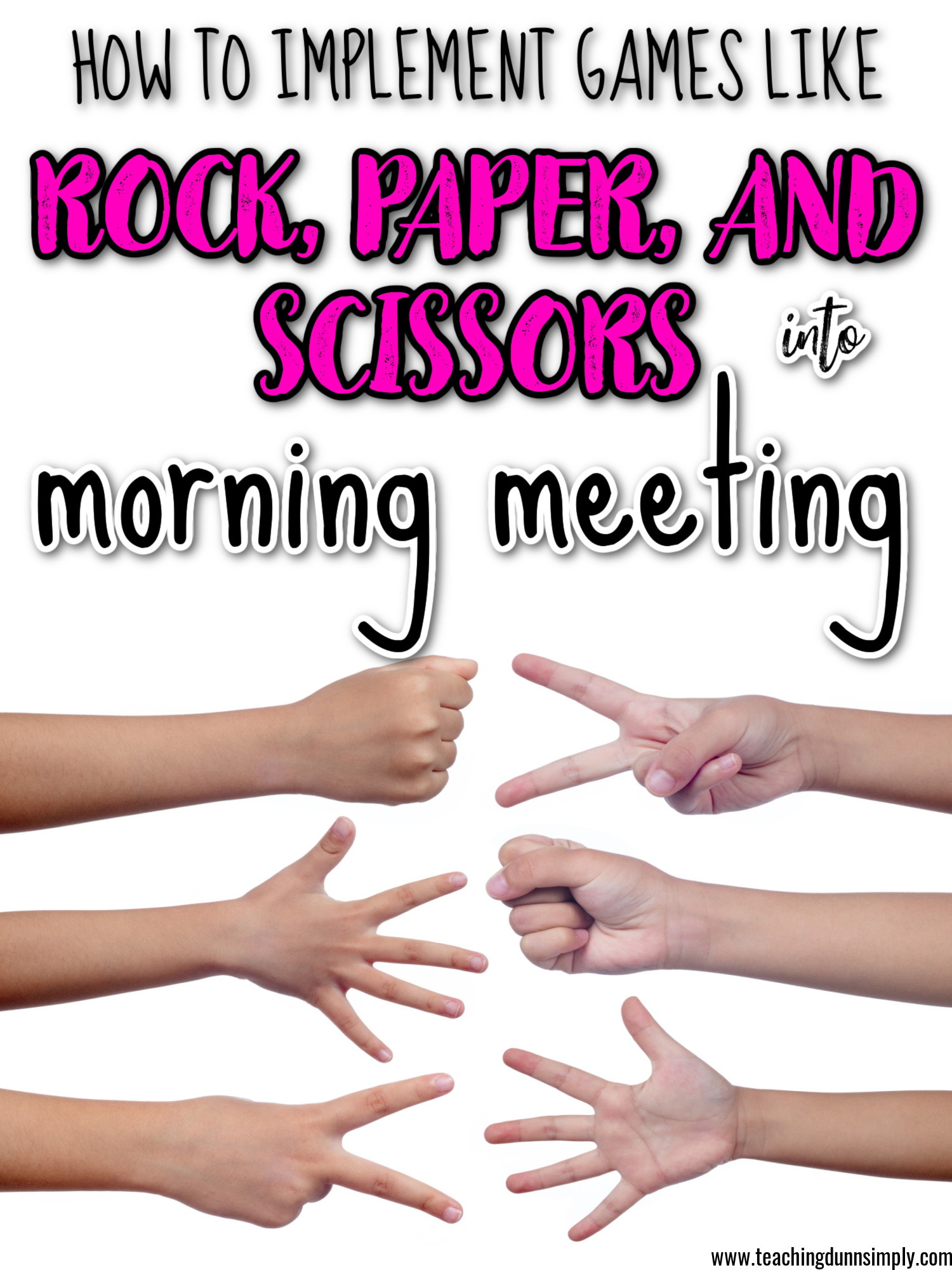 Divide students into 2 teams. One student from each team will face off using the hand motions of rock, paper, scissors. The winning student will go to the back of their line. The losing student will have a seat in their line. Whichever team has the most students standing at the end wins!
Beat the Teacher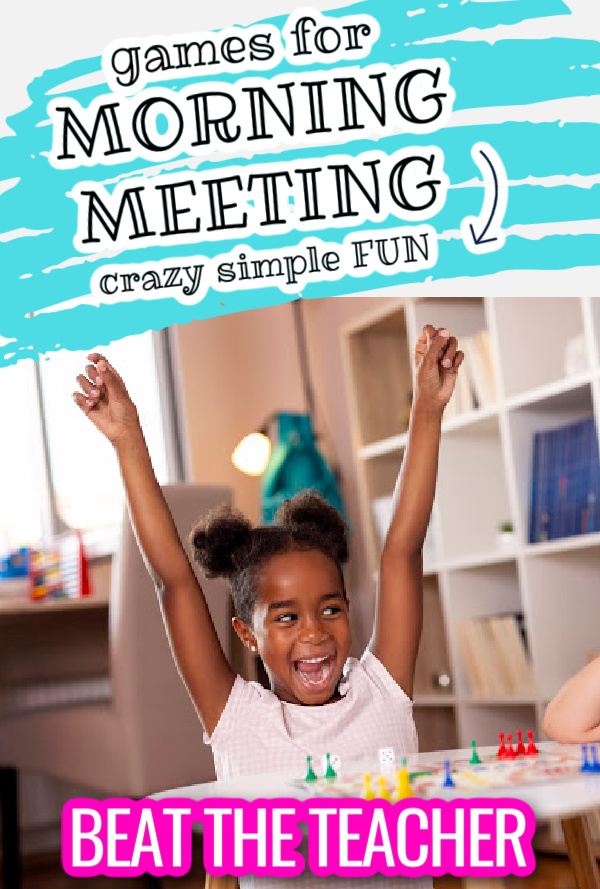 The teacher will use dice to roll a number. If you have a Promethean Board or some type of interactive board in your classroom, use digital dice. Pass out dice to each student or allow students to use digital dice. The object of the game is for students to roll a number bigger than the teacher. If they don't, they are out. If they do, they will stay in and continue playing. You can play this game in groups if that is a better fit for your classroom. This is a great addition to your list of games for morning meeting.
As you can see, morning meeting games are a must for every classroom. Use any of the choices here to implement games for morning meeting and get students laughing and having fun in your classroom. Morning meeting time will quickly become the most enjoyable part of your day.

---

---