Titanic Virtual Field Trip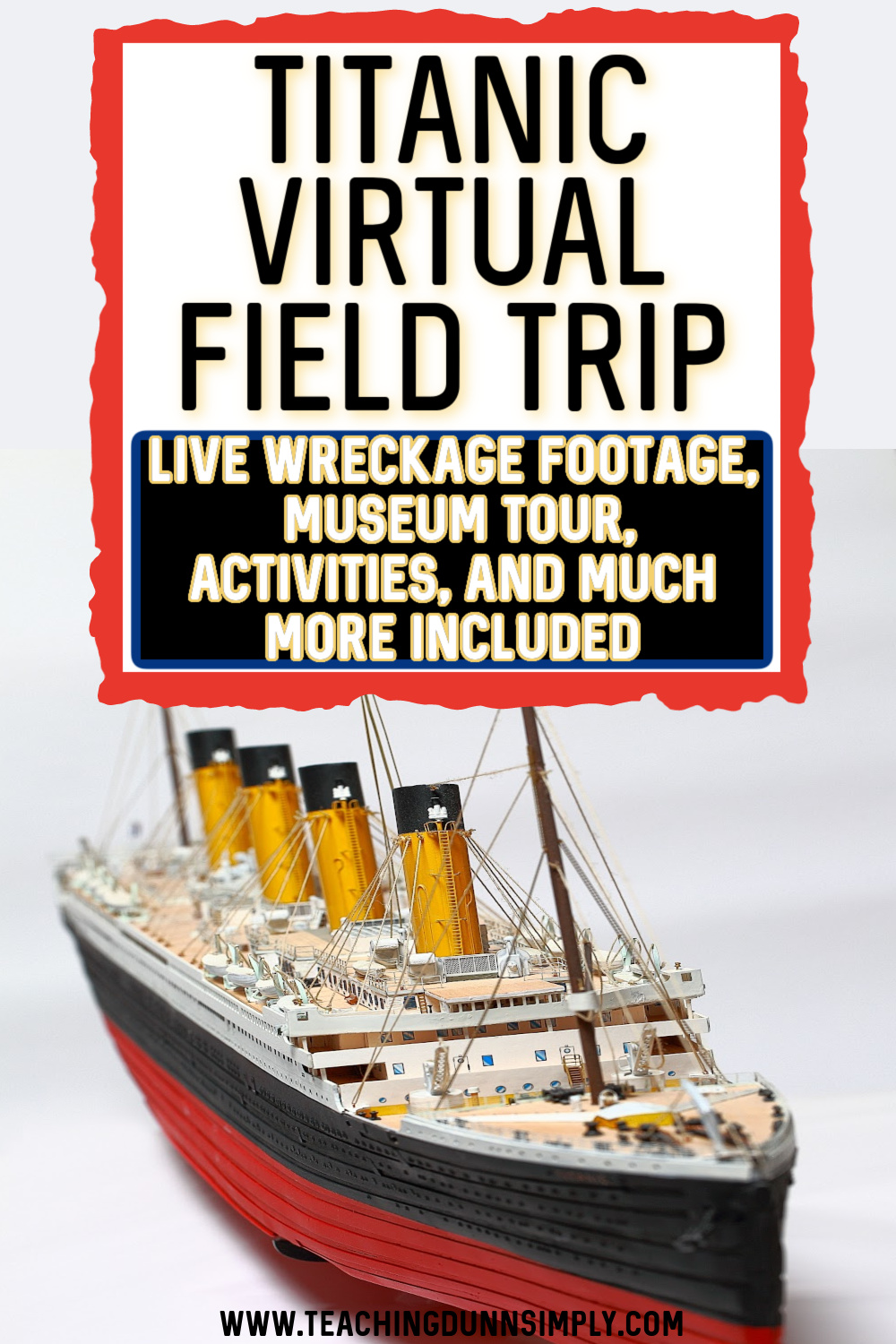 Set sail with your students on an EPIC Titanic Virtual Field Trip experience discovering facts, information, and details about the RMS Titanic. The sinking of the Titanic is interesting to so many, even over 100 years after the tragedy. The Titanic sank on April 15, 1912, into freezing water in the Atlantic Ocean, where the remains of the ship still lie. Artifacts, pictures, videos, and webcam footage are now available, so we can see the Titanic in real-time. This makes for exciting Titanic interactive activities.
It could just be because I'm an 80s baby, but I loved the Titanic movie when I was younger. I mean the love story of Rose and Jack is definitely one to remember. And that blue necklace, who could forget that? Watching that movie sparked my interest about the Titanic. In my years of teaching, I have found most of students are just as curious about the Titanic and traveling under the sea to see and learn more. Creating this Titanic activities for students was so much fun for me and I learn cool facts and information.
Allow students to become a visitor on the famous RMS Titanic. This once-in-a-lifetime experience will be one your students will always remember. Visiting the location via webcam and seeing actual footage of the Titanic is so cool. Bring one of the most memorable, modern-day events in history to life for students!
You will check out artifacts and view webcam footage of the Titanic roughly 12,600 feet underwater in the Atlantic Ocean. Also included is information about the passengers who experienced this beautiful ship and about the tragic night of the sinking. This is so cool and I bet your students will too!
Titanic Virtual Field Trip Experience
Titanic Virtual Field Trip is for everyone! Whether you are searching for a fun Friday activity or a standards-based activity, this one is for you! So much is jammed packed into this ready-to-go resource.
I had so much fun creating this resource. I have always found the Titanic interesting, even as a student. While being creative, I learned so much more about the night of the sinking and many of the passengers onboard. 
This is a great resource for many reasons. First, this topic will keep students engaged. Second, you can tie in social-emotional learning and ask your students to imagine the emotions and experiences of the passengers on board. For example, how do you think it felt to be a first-class or 3rd-class passenger? Also, how do you think the passengers felt watching the ship go down into the freezing Atlantic Ocean? Do you think the people who were able to get on a lifeboat felt guilt or do you think they felt relief?
Titanic First Class Activities
A Titanic virtual field trip is a great resource for elementary and upper elementary students. This is also ideal for middle school students. Students will enjoy the in-depth view and experience from each video. All of the work has been done for you.
The unsinkable Molly Brown and many other memorable people who travel on the Titanic are included in this resource. I have always found Molly Brown interesting! The musicians were also a big part of the Titanic especially the night of the sinking.
Here's what included:
PowerPoint Presentation (Full Color) with 24 slides

The PowerPoint Presentation has several YouTube links available to provide an in-depth look.

Titanic

Virtual Field Trip Video

KWL Chart

Titanic

Virtual Field Trip Reflection 

The Unsinkable Molly Brown Q & A Activity

Titanic

Timeline Activity

Titanic

Tribute Newspapers Activity

Artifacts Video Link

Musicians of the

Titanic

Video Link

First-Class Cabins Video Link

Third-Class Cabins Video Link

A Trip of a Lifetime Video Link

Building the Titanic Video Link
This resource is offered in PowerPoint format as well as Google Slides. I wanted to provide two versions so every teacher could implement this resource. As I said before, I had so much fun creating this resource. Each video dives deeper into specific topics so students get a real-life experience of the Titanic. Each slide has clipart that fits the theme perfectly and is age-appropriate. Titanic first class passenger activities provides students with a cool experience and a deeper understanding of the Titanic.
Whether you are looking for a standards-based activity, extension assignment for students, or a fun academic unit for the end of the school year, this Titanic Virtual Field Trip is perfect. As you can already tell, this Titanic Virtual Field Trip is jam-packed with facts, information, and several student-friendly activities!
I hope you and your students have as much fun learning and traveling under water to learn more about the Titanic. The videos and virtual trip experience is sure to be one students will love and remember. 
---