End of the Year CELEBRATION
Throw your students an EPIC end of the year celebration. Here you will find the End of the Year activities perfect for ANY end of the year party but...
This year's Celebration is going to be a difficult one for teachers and students. I can't believe it's already time to say goodbye, can you? COVID-19 struck the United States and every single American has felt the effects of it in one way or another. Teachers, students, and families all over are traveling down uncharted territory. Many teachers are brand spanking new to distance learning and the large majority of our students are. Parents…they are overwhelmed, frustrated, worried, and trying to keep everything going in the right direction. Does this sound familiar?

Throw a celebration like never before

The ending of this school year will I guarantee you to be one that is remembered by all. It's hard to close out the school year this way. I don't know about you but I just want to hug my students and play our super fun end of the school year games. However, this year it's got to be different. If you are wondering how in the world you can still have an EPIC celebration for students, don't worry…I've got you covered.

Class Video
Every celebration needs a video…or two! Make a video of memories for your class using the Last day of school sign! Your students are sure to love this! However, you can also include pictures you have taken throughout the school year, yearbook pics, whatever you have to work with. You can image each image into Google Slides. After you have made the presentation exactly like you want, click "present". Then record your screen as you scroll through the presentation. I would recommend adding music. Turn on the song of your choice and have it playing in the background while the presentation is running. To record your screen, I recommend using the Google Chrome extension, Screencastify. Don't worry, this extension is simple to use and very user friendly!

FLIPGRID
Have you ever tried to make a FlipGrid? They are so much fun and would be a great choice for your end of the year celebration. Flipgrid is an excellent way to get students to create a short 30 second or less video of their favorite memories for this school year. After, you can compile the videos into one amazing walk down memory lane. Click here to find out more!

Personalized 

Student Video

s



If you do not have pictures to make a class video, make student videos. Grab your roster and make a personalized video for each student. This right here will mean more to your kids than you will ever know. A positive, uplifting message from their teacher will leave footprints in their heart. Okay, that was a little sappy but trust me…this is a good one. If possible, include specific details of funny, or meaningful memories during the school year.

End of the Year Celebration 

Digital Student Awards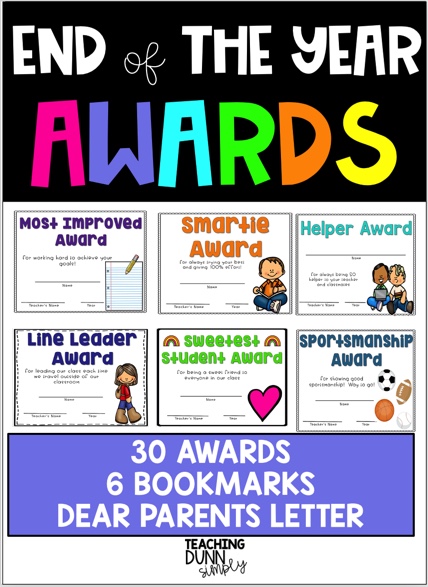 You can still provide students awards printable at your EPIC end of the year celebration! Students will just be receiving your super fun end of the year awards in a different way this year…digitally! Award each student with their end of the year awards during a Zoom call or Google Meets call. Then email or physically mail a copy to each student. Again, don't skip this! Students love this end of the year activity and will miss it if you decide to skip it.

Fun 

Sunglasses



I love to purchase sunglasses for my students at the end of the school year. My students enjoyed wearing the glasses on Field Day and on the last day of school. If you are able, mail each student a pair to wear on the last day with you. Ask students to wear these glasses during the last Zoom Call or Google Meets Session. Click this link to check out the glasses!

End of the Year Celebration Digital Memory Book

Every teacher on the planet includes some type of memory book for school for the end of the year rituals! Yep, me too! This year, provide your students with a fun memory book for school this year it's just going to be DIGITAL! Again, don't panic, I've got you covered…again! Click here to check out the End of the Year Memory Book for school in digital format. This resource is full of bright colors with many prompts for students to interact with.

Virtual Field Trips
If you are looking for a fun end of the year activities, check out Virtual Field Trips. Check out 12 NO PREP Virtual Field Trips! You don't want to miss this.

---

---