First Year Teacher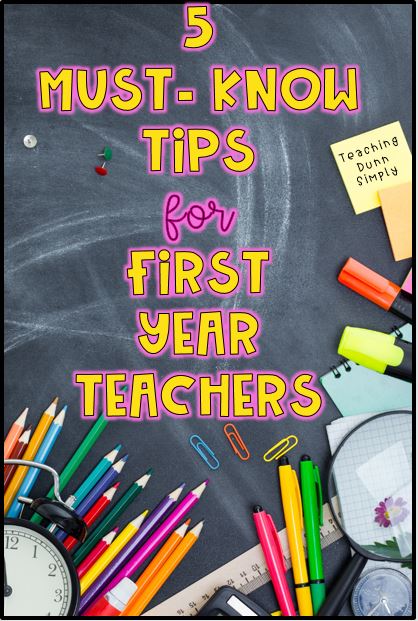 Are you looking for tips as a first year teacher?  First of all, congratulations on surviving college and landing your first teaching gig!  I know you are excited, stressed out, joyful, tired...shall I go on? Don't worry, I'm here to help!

First Year Teacher GOALS
First year teacher goals are simple.  Set small, achievable goals for yourself and build up to conquer larger ones. Think about what you want to achieve in your classroom. Your goal may be to leave school before 5:00 each day. Another may be to help a student who seems angry most days. Have fun; make an impact! You will learn so much during your first year teaching.  You will make mistakes and you will do better next time. Remember to teach from your heart and do what is best for your students.  Develop a classroom management plan, because if you do not become a classroom management master, it will be a long, painful school year!
I also wanted to give you something to think about. What do you want your classroom to look like? feel like? sound like? Yes, you need fun classroom decorations that reflect your taste but also think about what you can do to create a successful learning environment.
Having a successful learning environment will help set your students up for success. This will also help students feel safe and comfortable in your classroom.
First Year Teacher Checklist
STOP THE SCROLL!  Click here to find out more about How to Build Classroom Community.

Here is a suggestion of what your first year teacher checklist should look like:
1 - Calendar or planner (This is the one I have and love.)
2 - Activities for the first few days. Check out Save Fred and Back to School Games.
6 - Open House Stations - Make Open House SUPER EASY for YOU and for parents. Open House Stations will keep parents and students moving throughout your classroom while you are getting the information you need. Plus, you can meet your sweet students and their families! This bundle from Teachers Pay Teachers also includes a Meet the Teacher treat! SCORE!
7 - Teacher Self-Care Ideas - The life of a teacher is hard.  You have to take care of yourself physically and mentally. If self-care for you is writing lesson plans while binge-watching Netflix, that's okay.  If not bringing work home and killing it at the gym after school is what your self-care looks like, that's okay. Simply put, you be you!
First Year Teacher Must-Haves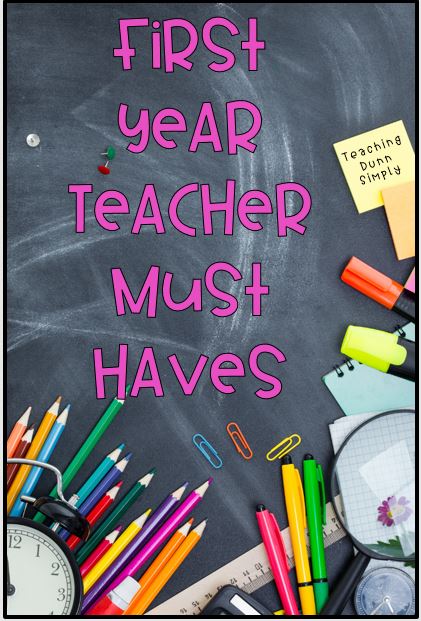 Great pair of shoes - Shoes for teachers
Trendy Teacher Clothes -

jane.com is great shopping for teachers!  Prices are affordable and the clothing and accessories are trendy! It's a win-win!

First year teacher survival kit - bring on the

chocolate

!  Keep a few snacks in your desk for days you are swamped and need something quick.   

Water bottle

- Make sure you drink lots of water.  You need a good water bottle you can sip on throughout the day.  This

water bottle

is what I have, and I have enjoyed it. It fits in my backpack and helps me measure how much water I drink each day.  

Teacher backpack

- This is the best teacher backpack...ever!  It offers the right amount of space without feeling like you are carrying around a suitcase!
Advice for First Year Teachers
You are going to plan jamup lessons and activities yet sometimes, they aren't going to get it. That's okay! You are going to pour yourself into kids who couldn't care less; pour into them anyway. Each day you have the opportunity to make a difference in a child's life. The students who need love and support sometimes ask for it in challenging ways. Always remember this! The best advice I have ever been given was to treat students like you would wish for your child to be treated. Sit back and think about that for a minute.

Protect your planning time.  Use your planning time and devote it to planning lessons and activities for your students.  Make copies, and prepare for the days or weeks ahead. I know time is often spent socializing, but it will help reduce your stress level if you are protective of this time.  Make a list of tasks you need to complete first. Write the list with the top priorities at the top. Mark the task off when you have completed it. You will be filled with such an accomplished feeling as you are marking off tasks. 

---