Classroom Doorbell
A classroom doorbell is essential classroom management for elementary teachers.  A wireless doorbell for the classroom is affordable, easy to use, and will help eliminate stress.  Larger class sizes can be found more and more and often the traditional attention-getters tend to become difficult to use in large classes.  Your solution….. a wireless doorbell! If you are still contemplating why adding a wireless doorbell to your classroom management tools is the answer, allow me to help!
If you have a noisy classroom a classroom doorbell can help calm students down. This is a great technique to get students attention and redirected them as needed. I am speaking from personal experience and this doorbell for classroom was a total game changer. My students quickly learned when they heard a chime they were to stop, listen, and look at the teacher. If talking or unwanted behavior continued after the chime, consequences were earned. These consequences might be 5 minutes of recess, 5 minutes of silent lunch, etc. If these behaviors become consistent with the same students, our classroom behavior would be enforced for not following directions. In general, the majority of my students responded well and were very respectful of this classroom management tool.
Join the many classrooms have begun to incorporate doorbells into their daily routine. While it might seem like a small addition, the benefits of having a doorbell in the classroom can be significant.
Classroom Doorbell Expectations
Teacher Tip:  Teach, reteach, and teach again your expectations to your students! Ask questions and give plenty of examples when using a classroom doorbell.

What makes the SADO Tech the best classroom doorbell is the variety of colors. You can easily match your classroom doorbell to match the color schemes in your classroom. Here are a few must-know features.
Long range that reaches 1,000 feet 

Battery powered remote

Completely Wireless

35 Chimes

17 Sounds

Customize doorbell ringer with optional add-ons

Over 18,000 5 Star Amazon Reviews

Totally affordable (under $20)
Amazon also offers 5% discount with a clickable coupon. This is the doorbell I use and I love it!
Getting the most out of a Classroom Doorbell
What do you want to accomplish by implementing a classroom doorbell? What and when do you want students to do? Just like with all classroom rules and procedures, teach students what to expect when they hear the wireless doorbell chime.  Take some time before implementing this fun classroom management tool to consider how you want your students to react when the doorbell is being used.  There are many chimes available, so the possibilities are endless. Consider one chime for lining up at the door, another for changing centers, and use another as your attention-getter.  An awesome wireless doorbell can be found here!   
Doorbell for Classroom aka The Attention Getter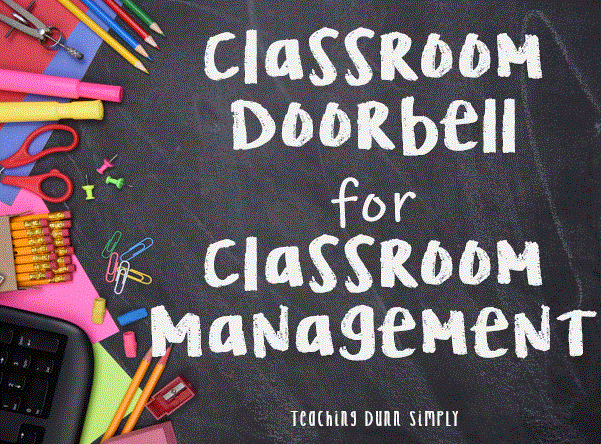 Use the classroom doorbell when you want to get students' attention.  You can customize the classroom doorbell chime for different needs.  For example, one chime can mean line up at the door, and another could be stop and look at the teacher.  I personally love this idea and this is why a wireless doorbell has changed my classroom management game! Classroom management for elementary teachers can be challenging. Larger class sizes have become more of the norm in schools all across the United States. Having more than one classroom management tool in your classroom management toolbox will help tremendously! This awesome classroom doorbell for the classroom can be found at Amazon. 

Classroom Transitions
I use my wireless doorbell in the classroom for transitions. When it's time to line up for lunch, changes classes, center time, or to end the day. Simple and effective! That is what every teacher is looking for. 
Student Ownership
A doorbell can help reduce interruptions in the classroom. When students need to enter the room for any reason, they can simply ring the doorbell instead of knocking or opening the door. This minimizes the disruption to the rest of the class and helps maintain focus and productivity.
Additionally, a classroom doorbell can be a great way to promote independence and responsibility among students. When students need to leave the classroom, they can take charge of their own needs by ringing the doorbell and waiting for permission to leave. This helps them develop important life skills and encourages a sense of ownership and responsibility in their education.
Another Way to Grab Students Attention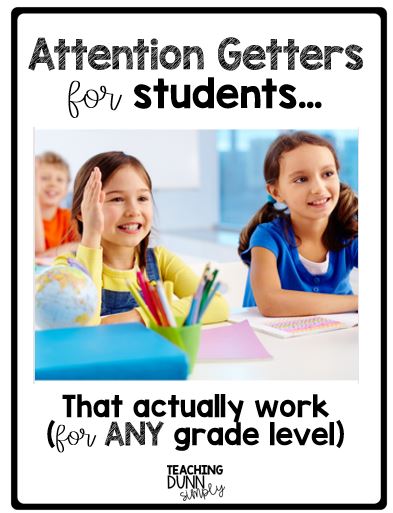 How do your students transition from centers or line up for recess or the cafeteria?  Does this require you to clap to get their attention or say an attention getter? Speaking from personal experience, when I use a fun clap attention getter, I have to walk to my desk and put whatever I'm holding in my hand.  Let's face it, teachers juggle tasks as soon as they enter the school building. Think about it, when your students need to make a transition, most of the time you are transitioning too. Use the remote to activate the chime of your choice and students will start transitioning to where you have requested.
FAQ
Wireless Doorbell for Teachers
Will the remote work if I am across the classroom?
Answer:  Yes! The remote will still activate the chime across a classroom.
Is the wireless doorbell loud enough for my students to hear?

Answer:  Absolutely!
Does the remote have a battery?
Answer:  Yes! The remote has a battery that comes installed.  
I hope I have convinced you to try a wireless doorbell for your classroom. It makes a great attention getter and is an awesome addition to your classroom management toolbox!
A classroom doorbell may seem like a small addition, but it can have a big impact on classroom productivity, student independence and responsibility, safety, and classroom culture. If you're a teacher, consider adding a doorbell to your classroom to see these benefits for yourself!
If you have more questions, send me an email! Click Contact to submit your question. I would love to help out! Complete the form below with questions or comments.
Have A Great Story About This Topic?
Do you have a great story about this? Share it!
---

---