Open house at school means everyone is gearing up for the new school year! Whether your school is hosting an in-person or online open house, with these tips, it's bound to be the most EPIC open house at school ever! Get to know your students and parents with these open house ideas that will get everyone excited to learn.
An open house at school or back to school night is a place where students and parents can get to know the teacher, the curriculum, and (if they're new to the school), the building and administration. In addition, back to school night is also a time where kids and parents can learn about the activities and clubs the school offers. 
When hosting an open house at school, your administration or district may choose to schedule back to school night before school begins or within the first few weeks of school. If you're meeting students and parents before the first day, you probably won't know any names, and that's OK. The open house should focus on getting to know you and the classroom! Here are some ideas for an epic open house!

Open House Stations will ensure your open house at school is organized and successful.  Open House Stations are perfect for social distancing too!
To keep your open house at school organized and flowing well, try stations! First, put out Open House Stations to direct parents and students where to go. Open House Stations is my favorite open house at school ideas. I feel this is a very organized way to host open house at school and keep the traffic in my classroom flowing and information from parents. 
Here are your essential stations for your back to school night!
Open House at School
Open House Sign-In Sheet
Have your parents and students sign in. This serves as a record of who attended back to school night. This is also a helpful reminder of which parents were unable to attend and who you need to follow up. Your students won't see you at this station, but it gives them a chance to sign in before they forget and move on to the other stations. 
Open House at School
Student Information Sheet
This is a big one during open house at school. There are things you'll definitely want to know about your students. Share this Open House Form with parents to have them disclose everything you need to know about their student. Offer parents time to talk about their child and ask specific questions if you feel led. 

Open House at School
Get Transportation Information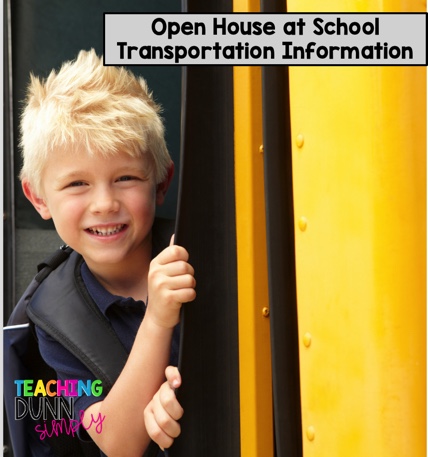 How do your students get home? Have parents fill out a transportation information form when planning your open house at school.  Whether your learners are riding the bus, leaving school with parents, walking, riding a bike, or have specific people they are allowed to ride home with, having a transportation form for parents and guardians to fill out will help your students stay safe. Share these forms with the office and keep a copy with your own files. Documentation is key and finding out transportation is one of the most important you should collect during open house at school.

Open House at School




Provide Classroom Supply List



If your back to school night or open house at school is before school starts or is very early in the year, this time is the perfect opportunity to share your supply list. Some schools do this in the summer and allow students to buy supply packs. Many schools also provide supplies for students. However, it's always recommended to share a list of what students should bring to school if they can. Parents definitely appreciate this early! In addition, this station is a place where you can share optional donations you'd like to request for your classroom. Be honest about what you need. Many parents will ask, so it's completely appropriate to let them know at the open house.
Open House Treat for Students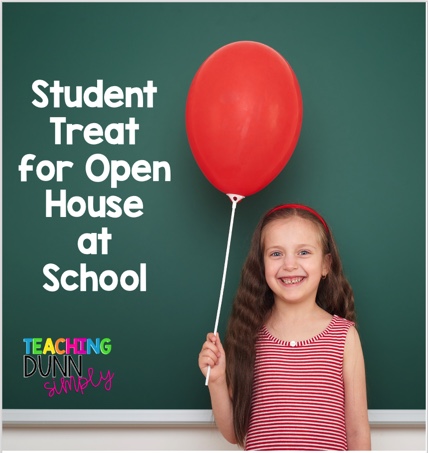 Leave a special treat at your students' desks. When they find their place in the classroom, they'll have a special message and a treat from you. If you don't want to give candy or something editable, you don't have to. There are so many cute options available that do not involve food or candy. Think of pencils, erasers, and other school supplies that are affordable and available during the time of year.  A few examples of messages and treats are shown below.
"This year will BLOW you away" - Blow Pops

Eraser Poem - Large Rectangular Eraser

"We're going to have a lot of FUN as we DIP into learning every day!" -Fun Dip

"Meeting you was the HIGHLIGHT of my day" -Highlighter

"Thanks for POPPING by to meet me!" -Gum or a Balloon
Students get so excited to have their first special treat and message from their teacher!
Click here to check out the Open House Stations resource that can be found in my Teachers Pay Teachers Store.

Online House at School




Meet the Teacher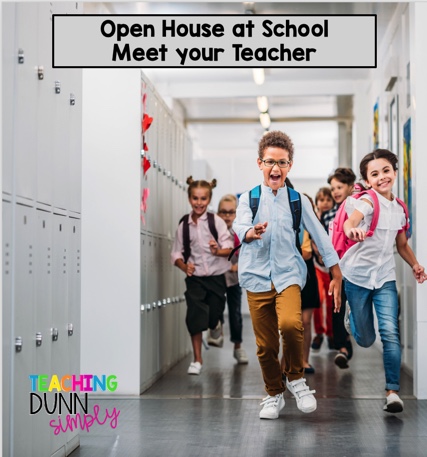 Of course, this will be your favorite station! This is where you get to meet your students. Keep conversations brief so you can "get to know" all your families, but be open to questions from parents and students. Share what they will learn and how excited you are to have them in class. Remember, this station is the main reason your students are at your open house!

Are you looking for meet the teacher ideas?  Check out this BUNDLE for meet the teacher night.  Everything you need to meet your sweet students can be found right here. The best part about this resource is that it's editable!

Online House at School
Online Options
If your school is hosting an open house night online, you can still share all of these forms digitally with parents. Instead of having a "Meet Your Teacher" station, make a video or slideshow about yourself to send out. In addition, you can still use the sweet treat open house ideas to send out to students or share when they come to school.
Congrats! You're ready to throw an epic open house. Use open house resources and stations to get parents and students excited about the new school year!

---