Attention Getters for Students that actually work!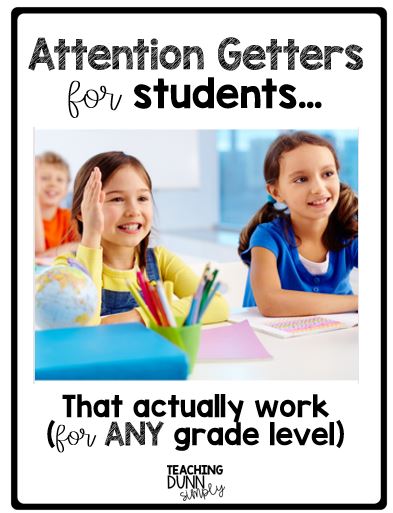 Attention Getters that actually work for any grade level will have cut out your classroom chaos. These fun, unique and manageable attention getters your students will love and offer a quick response time for your students. Attention getters in the classroom are the solution to your problems if you are dealing with too much talking and constant chaos.

Attention Getters


Practice makes perfect!
Practice with your students. Introduce and practice implementation with a couple at the beginning of school when you are teaching rituals and routines. Make this strategy a staple in your classroom and use daily. This is a quick, FREE tool for you to add in your classroom management toolbox. If you are having trouble getting students on board, compliment those who quickly respond. For example, "Beth, great job responding quickly when you heard me say Hocus-Pocus", you may step to the treasure box".

The Benefits of Attention Getters in the Classroom
The benefits in the classroom will cut down the chaos in your classroom. This great strategy will reduce the amount of talking and grab student's attention when you need it. This is the perfect classroom management technique to redirect student's attention when they get off task. I personally love using attention-getters when I am teaching and my students are not providing engagement that I am looking for.
Click here to download the FREE list!

Primary Level Attention Getters
Have fun with your students! The primary level should be fun for students but remember the goal is to get their attention. Teach, reteach, and reteach again how to properly respond to the keyword or phrase you are choosing. Be crystal clear with your expectations and explain to students this is not a time to be silly and you need their attention.
Upper Elementary Attention Getters
If you teach upper elementary students, they are not too old to benefit from this classroom management tool. I would choose 2-4 of your favorites that you think your students will not feel childish when using. I teach 3rd grade and my students respond very well to this strategy when I implement it in my classroom. However, I am very careful and watch how they respond when introducing this strategy we are going to use. I would recommend changing up one or two throughout the school year. As a matter of fact, I know a 5th-grade teacher who changes in his classroom every semester. Remember to be crystal clear with your expectations and remind students you are trying to get their attention.
What do you do when you have their attention?
After you have your student's attention, I recommend they get into a "learning position" or "give me 5". "Learning position" in my classroom is feet on the floor, sit in your seat nice and tall, hands in your lap. However, you can customize this however you need to.

Do you have a classroom doorbell? I use this classroom management tool in addition to the strategies in this blog post. This is a GREAT classroom management and will certainly complement the other strategies mentioned above. Click here to read more! 
Use PROMO Code 10OFFDUNN when ordering and receive 10% plus free shipping!

---

---