Virtual Pumpkin Patch Field Trip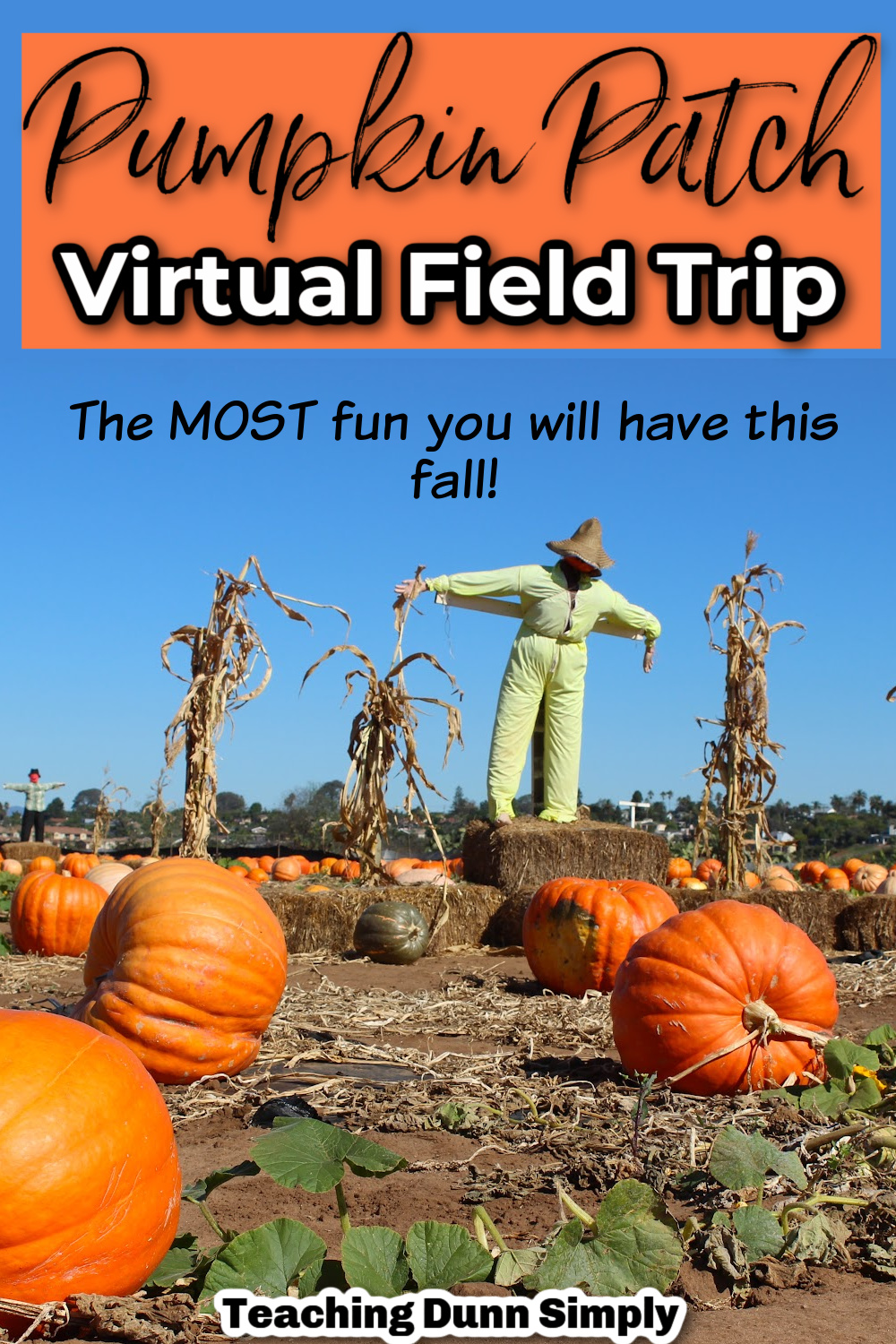 A Virtual Pumpkin Patch Field Trip is perfect, especially during the fall season. Let's go on a trip to a pumpkin patch. A Virtual Pumpkin Patch Field Trip is the BEST fall activity for your students. 
Happy Fall Y'all! Here in the south, we love fall. I especially love the fall season and all the fun activities and beautiful weather it brings. I can tell my students do too.  As teachers, we are able to implement so many fun components to our classrooms, standards, and curriculums especially classroom décor and coordinating fall-themed activities. I mean, it's every teacher's dream is to find super engaging lessons that are also cute!

Virtual field trips are perfect to implement in the classroom. Whether you are able to take field trips away from school or not, virtual field trips are still a great option and can be implemented in many different ways. You can implement it for Fun Friday or choose a standards-based field trip. Personally, standards-based virtual field trips are my favorite because I feel you get the most bang for your buck.
Students get to experience places and things they otherwise never would, plus the experience is directly related to the standards. Oh wait, I forgot the BEST part...with all the virtual field trips you find here, the work is done for you!

Virtual Pumpkin Patch Field Trip
Travel virtually with your students to explore an amazing pumpkin patch in California. The narrator educates students on pumpkin sizes, shapes, and colors. The cool and interesting facts students will learn are directly related to the Pumpkin Patch Virtual Field Trip resource. Students will learn so much about pumpkins. They will learn the life cycle of a pumpkin and learn how a pumpkin grows in all colors, shapes, and sizes. My students also think the life cycle of a pumpkin is interesting and enjoy this unit. If you really want to step up the unit, bake pumpkin seeds for student's to taste. You also can purchase or bake homemade pumpkin pie for student's to try. My students love this tasty treat. When I started incorporating pumpkin pie into this unit, I was very surprised at how many students had never eaten it. It's a cool memory for the first time students taste it to be with their favorite teacher!
Virtual Field Trip to the Pumpkin Patch
Pumpkin Patch Virtual Field Trip Resource
Here is a little bit more of what's included in this Virtual Field Trip to the Pumpkin Patch:
Virtual Pumpkin Patch Virtual Field Trip Video

"My Reflection" Page with questions

20 Questions Over the Virtual Pumpkin Patch Virtual Field Trip Video (multiple choice)

K-W-L Chart

Life Cycle of a Pumpkin Chart

Life Cycle of a Pumpkin Fill-in-the-Blank

Life Cycle of a Pumpkin Color Sheet

How to Use Pumpkin

Pumpkin Color Sheet
 As you can see, everything you need to have an EPIC virtual field trip to the pumpkin patch is included. This resource can be broken up into 1-2 days depending on your schedule. I know you are going to love this experience as much as your students. 
Virtual Pumpkin Patch Field Trip Extensions
I wanted to share with you a few suggestions for extensions. If you have a local pumpkin farm, Walmart, or grocery store nearby, ask for donations of pumpkins. You may also ask parents to send in a pumpkin with their child if you have good parent support.  If possible get one for every student. Allow students time to decorate their pumpkin and take it home. 
 If getting a pumpkin for every student isn't possible, grab a couple of different shapes and sizes of pumpkins for your classroom. This is great so students can smell and touch the pumpkin. If time allows, cut the pumpkin open so students can see and touch the seeds and guts on the pumpkins.
 To go the extra mile, roast pumpkins seeds for your class. You also can order roasted pumpkin seeds from Amazon. Yes, Amazon has everything and I am thankful!
I don't know about you but I love this time of year. The fall season offers so many fun activities that can incorporate inside and outside of the classroom. Student are energized from summer break. I also love the idea of fall festivals, pumpkins, Halloween, Thanksgiving, leading up to Christmas. 
Children's Books about Pumpkins
My students love books! I put together a great list of children's books about pumpkins for you. My students love a good read aloud and the fall season offers so many fun choices that you can relate to content. Click the links below to shop on Amazon or watch a video recording of the read-aloud.

I hope you will implement a virtual pumpkin patch field trip and the other activities mentioned with your students!  They are sure to enjoy participating and making fun memories. I just know your students will enjoy the virtual field trip pumpkin patch as much as mine do!
Enjoy your trip!
Happy Fall Ya'll!
Before you go, check out this fun Would You Rather Halloween game!
Click here!
---