Zoo Virtual Field Trips
The BEST, Most MEMORABLE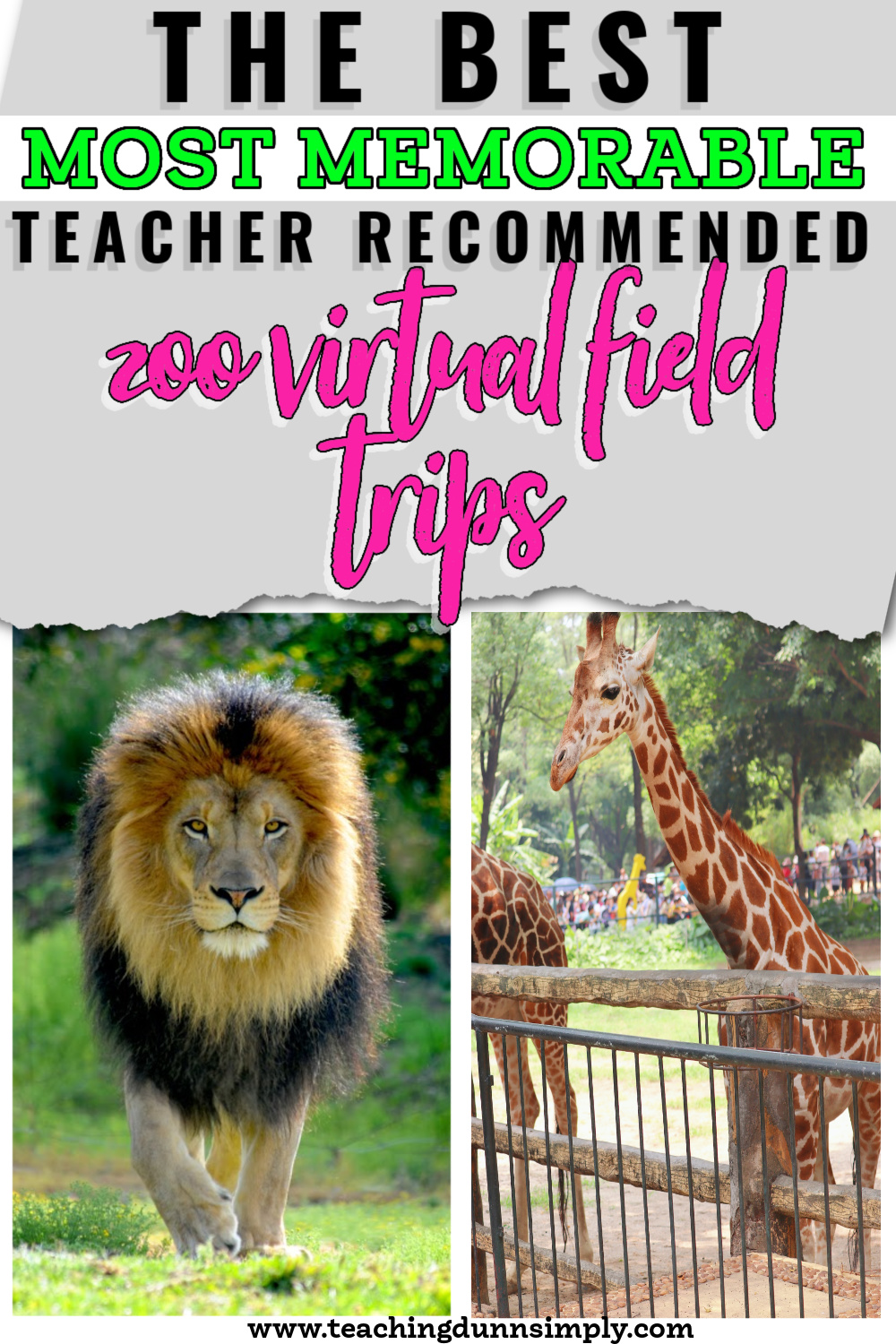 A zoo virtual field trip is sure to put a smile on anyone's face, no matter the age.  Everyone loves the zoo! Lucky for us, there are many options available when looking for a virtual field trip to a zoo. So, if you are searching for the best zoo virtual field trips, you have hit the jackpot. 
First, let's talk about zoo animals. Before your San Diego Zoo virtual field trip or virtual field trip Bronx Zoo, think about what zoo animal you will want to see. Take a peep at the zoo's website and check out the different habits and animal adaptations. Look for science vocabulary words you may find in your science standards.
If you are thinking, "I don't have time to search through science standards and then comb through multiple zoo websites," don't worry. I've done all the work for you! In the resource you will find here, everything has been done for you! As a teacher, I know your time is important and limited.
San Diego Zoo Virtual Field Trip



I have highlighted 8 animals that students will see while on their zoo virtual field trip. Each animal that is included is on an individual slide with fun facts and information. The best part of the animal slide show is that you can click to hear what sound the animals make! Trust me, your students will love this feature!
Also included in this San Diego Zoo Virtual Field Trip are 8 LIVE animal webcams! You can see each animal in real-time, and this is so cool. Encourage students to look for specifics while viewing each webcam. Have your students look for animal behaviors, and ask them if the area the animals live in looks like their natural habitat. Several graphic organizers are included, which makes this virtual field trip zoo one that can be spread over a few days.

Limited on time? Don't worry; I've got you covered! Click here to check out a resource that has everything you need (and more) to take a virtual field trip San Diego Zoo. Links to the LIVE animal cams paired with K-W-L charts and a FULL colorful PowerPoint presentation are all included! A coloring sheet and several graphic organizers are all NO PREP for you. Just click and print. You can use this resource for 1-2 days as a fun Friday activity or tie activities to the standards.

If you are looking for another option for a zoo virtual field, check out these suggestions

Virtual Field Trip Bronx Zoo
A virtual field trip Bronx Zoo is a great one for kids. The location of this zoo is none other than New York City. Like many zoos around the world, Bronx Zoo offers live cams for several animals. The Bronx Zoo website also offers virtual experiences. Trust me, a virtual field trip Bronx Zoo will certainly top your list of best virtual zoo tours!
Los Angeles Zoo
A trip to the Los Angeles Zoo is one like no other. This zoo is located in Los Angeles, California. One special feature of the Los Angeles Zoo is the beautiful gardens and landscape. A variety of plants and beautiful flowers can be found from all over the globe, even from Hong Kong! Many visit the Los Angeles Zoo for the beautiful gardens as much as the animals.
Toronto Zoo
The Toronto Zoo has over 5,000 animals in its care! One of the coolest features that can be found on the Toronto Zoo website is called Goodnight Zoo. Goodnight Zoo is a YouTube recording of a read-aloud about a variety of animals! How neat!
Australia Zoo
Take your class on a trip down under to the Australia Zoo! I'm sure you've heard of the famous Steve Irwin (aka "The Crocodile Hunter"). His family made it their mission to make the Australia Zoo the best of the best and to preserve wildlife. Cameron, Steve and Terri's son, is very involved with the zoo and loves to care for and work to preserve wildlife, just as his parents.
Zoo Miami Virtual Field Trip
Welcome to Miami! Zoo Miami is the largest zoo in Florida and the 5th largest zoo in the United States of America. A variety of animals from different regions and continents like Asia, Australia, Africa, and North, South, and Central America all can be found at Zoo Miami. Miami's sub-tropical zoo is able to have many animals from warmer climates due to its hot weather. Zoo Miami virtual field trip is a great place to take students.
Cincinnati Zoo and Botanical Garden
Cincinnati Zoo and Botanical Gardens is a must-stop zoo virtual field trip. The gardens are breathtaking and the animals are a must-see. The Cincinnati Zoo and Botanical Gardens are known and loved by many. Be sure to add this to your list of best virtual zoo tours. 
Columbus Zoo and Aquarium
When searching for a zoo virtual field trip, be sure to add the Columbus Zoo and Aquarium to your list. One of the coolest animals you will find here is the zebra snake. Many attractions, animals, and the aquarium make this virtual field trip zoo a fun one!
Fort Worth Zoo
Fort Worth Zoo offers a great experience if you are wanting to see a variety of reptiles, birds, mammals, fish, and invertebrates. One of the coolest new attractions is Elephant Springs. This is the Fort Worth Zoo's newest habitat and offers a beautiful green space and watering hole for Asian elephants. 
Teachers Pay Teachers Resource
All of the best virtual zoo tours can be found right here! If you are looking for each must-see zoo that is found here, check out this resource.  All the work is done for you with links to each zoo virtual field trip. Also included in this resource is a K-W-L Chart and Virtual Field Trip Reflection page. 
---

---