Centers for Math
These centers for math will change the game for your math class.  Learning centers for math offer the golden opportunity to engage students in learning.  Are you implementing math centers into your instructional day? Does the thought of planning, developing, and scheduling math centers completely overwhelm you?  Check out how to develop epic math center ideas here...
Centers for math… sounds exciting right?  Some teachers may say the whole math center concept is totally overrated.  What's your opinion? Do you love the idea? Do you have students at a variety of achievement levels?  Don't stress. After reading this blog post from Teaching Dunn Simply, you will be sure to be a pro at math centers for students!
First of all, each classroom is different and offers its own set of challenges.  One thing about centers is that they have to be changed throughout the school year.  In my opinion, change is a good thing and helps keep students from becoming too comfortable.  The way students rotate may also need to be changed as time passes. The grouping of students always needs to be at the front of your mind.  Be aware of the students who work well together and personalities that could conflict.
The Blueprint
Start planning no later than Wednesday of the week before the centers are taking place.  This will give you plenty of time to build your centers, decide which math centers to implement, and think about the grouping of your students.  It will be extremely beneficial for you to have your math centers prepped before the weekend.  
Each one of these centers can be adapted to the curriculum you are teaching.  This is simply a blueprint for you to follow and to provide you a few ideas to start thinking about when implementing math centers.  
Math Center Expectations
Give CLEAR expectations of what students should expect during center time.  Students should be completing aware of the academic and behavior expectations you have set for them.  
TEACHER TIP:  Be sure to have expectations and transitions posted as a reference for students.
*Have a timer visible for students so they can see how much time they have to work in their centers.  
Centers for Math
Manipulatives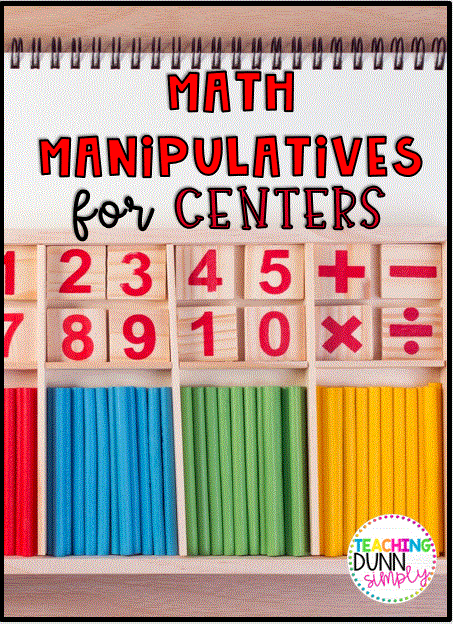 What do you have in your classroom that you can use?  Get creative, especially if you have limited resources.  Ask for help in purchasing items you need but do not have.  Manipulatives are an important part of helping students learn math skills.  Have you thought of requesting items from parents as donations? What about an Amazon wish list you can share with your students' parents.  Here is another idea… send home a letter explaining that instead of Christmas gifts from the students, you would rather they purchase items for your classroom utilizing your Amazon wish list.  My favorite math manipulatives are counters, spinners, dice in dice, foam dice, place value disks, and elapsed time rulers.

Check out the containers I use to store my manipulatives in.    
What Do Your Students Know?
or
What Do You Want Your Student to Know?
Survey the existing knowledge of your students.  Do this before, during, and after using the curriculum.  This helps make sure you are keeping tabs on your students' knowledge and level of understanding.  This could be in the form of a quick check, ticket out the door, student-led conference, or a one-on-one discussion. If a student needs to be moved, do it!  Math centers should benefit students in the biggest way!  
How many math learning centers do you need?  How many students would you prefer to have in each group?  Don't forget to separate the talkers, the players, and the ones who hate math from each other.  Try your best to group students in ways that will bring the most academic benefit. If the majority of your students are middle to high academic achievers, pair a middle with a high student.  You would use the same techniques with lower to middle achievers. You can change the rotation of students periodically as needed. Here is an example for math centers for multiplication:

Centers for Math
#1 Build Fluency
These students know their basic facts and need differentiated instruction.  I would assign these students to complete a graphic organizer to multiply by 10.  Problems like 40 x 3, 90 x 9, etc. So, for these students who have not mastered fluency yet, they will continue to answer questions that incorporate basic facts.  

Centers for Math
#2 Table with the Teacher
Target skills strictly based on the needs of the student (keeping under the umbrella of multiplication).  Use whiteboards and EXPO markers at this center to help check for understanding.  

Double Sided Dry Erase Boards, Ohuhu 30-Pack 9 x 12 Inch Whiteboards Set, Including 30 x Lap Board, 30 x Black Markers, 30 x White Boards Eraser for Students, Classroom, Back to School Supplies
Centers for Math
#3 Technology
Here is a good place to implement technology.  If you are prepping for math centers, be sure and check out www.xtramath.org, www.ixl.com, and www.seesaw.com 
xtramath.org is a free resource and is perfect to build fact fluency for addition, subtraction, multiplication, and division.  I utilize this website throughout the entire school year with my 3rd grade students. You can track progress and receive a printout to send home for parents. 
ixl.com is another great resource. However, if you do not have an account, you will only be able to work a certain number of problems daily before reaching your limit.
seesaw.com has changed the way I am able to implement the technology.  My students love this resource and its completely free. Students are able to manipulate graphic organizers and record using the built-in microphone. Here is a golden opportunity to check for understanding.  You can create or pull a ready-made assignment and have your students verbally explain how they solve the problem. Because if they can verbally explain how they solve the problem, they understand it! Assignments are easy to assign to students or your entire class.    

Centers for Math
#4 Dice
Here, I would pair an activity that involves dice and a graphic organizer.  Staying with the multiplication example, I would have students roll the dice.  The two numbers they rolled would serve as their factors. Then, they would write the numbers in the desired place on their paper.  Then, they would multiply to solve the problem.    
Centers for Math
#5 Manipulatives
Provide students with a graphic organizer that involves using counters, base ten blocks, a spinner, or something of that nature.  

Centers for Math
#6 Task Cards
I use task cards or a dry erase pockets activity. 

I love these file jackets. They easily wipe off what is written on them, and using the dry erase pockets will keep you from making every student a copy.  Since students only write on the outside pocket you will not have to make multiple copies.  
Are you looking for math centers for 1st grade?  Check out this resource available in my TPT store.  Within this resource, 18 different tasks are available, which is perfect when trying to differentiate learning.  Be sure to check it out.

Use a classroom doorbell or "X" button when you want students to transition.  This will help students transition smoothly, as well as cut down on the time it takes for students to transition.  I have both! I ring the classroom doorbell once for students to begin cleaning up their centers. When they are finished, I have them stand up and push their chair under their desk.  Then, I ring the classroom doorbell twice for them to rotate. I use the same concepts with the "X" button. Hopefully one of these great classroom management tools will work for you and your students.  

---

---