Online Classroom Games students will BEG to play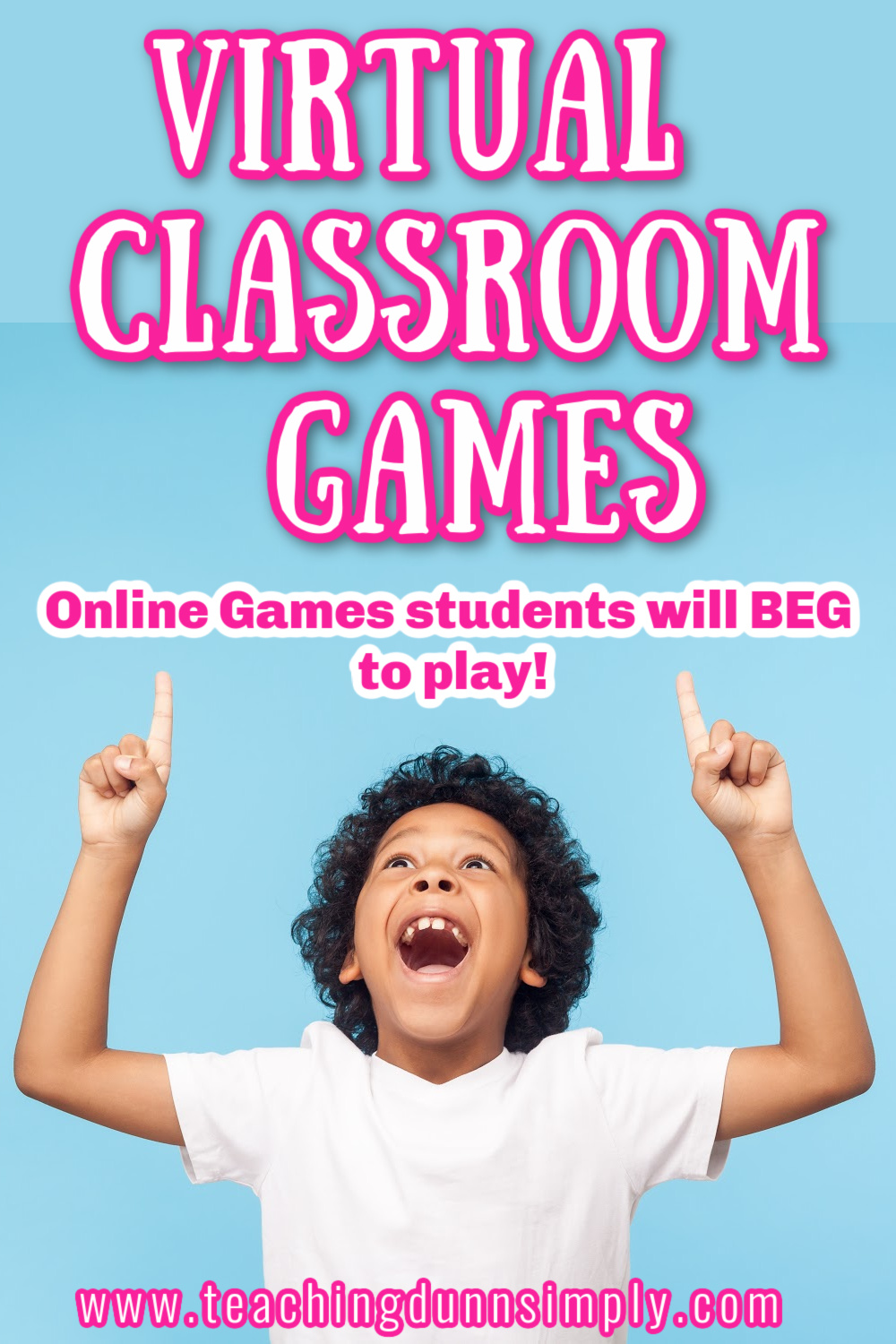 Online Classroom Games can offer much needed engagement for distance learning.  Distance learning is affecting almost every school and district in the country, some of your learners may be exclusively going to school online.  The truth is, thousands of districts are ahead of the game when it comes to using technology daily in classrooms.  Still others may be doing some schooling remotely. No matter where your students are learning from, online classroom games can help them review content, make connections, and stay engaged! Here are some online classroom games students will beg to play!
Online Classroom Game #1
Scavenger Hunt
One of my favorite virtual classroom games is a scavenger hunt. Share a scavenger hunt board with your students on Zoom or in Google Classroom, and have them find simple items that most students have in their home. Items include pencils, books, something of a specific color, and other generic categories. 
Using this ready-to-go scavenger hunt makes sure all students can participate no matter where they are learning from. 
Online Classroom Game #2
Would you rather?
Click here to check this resource out on Teachers Pay Teachers
Click here to purchase from my blog.
From gross (Would you rather eat taco flavored ice cream or hot dog flavored ice cream?) to sweet (Would you get a new kitten or a new puppy?), would you rather questions are online classroom games that incite fun, silly discussions and help build classroom community.
Start your class meeting online with a Would You Rather question as a digital check-in. Use the Would You Rather questions from the online classroom games pack or have students create their own wacky, wild Would You Rather scenarios!

Online Classroom Game #3
Connect 4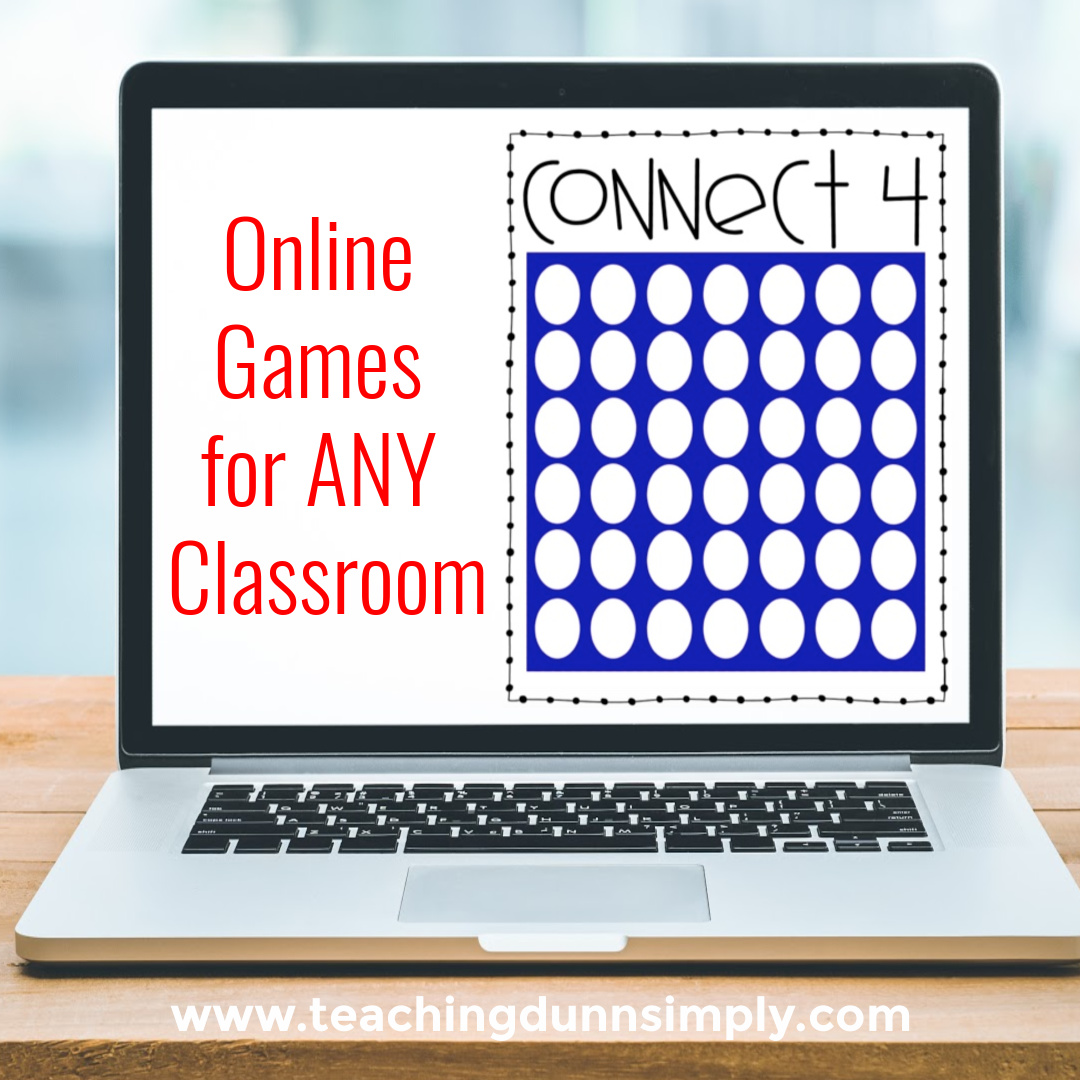 Connect Four is a board game students LOVE to play, but sharing materials has become a little more challenging during the last several months. Whether your kids are in-person or online learners, Connect Four also works as a virtual classroom game! Use the Connect Four board on Google Slides in the online classroom games pack to get started. 
Have students play in small groups in Breakout Rooms or simply share on Google Classroom for students to play on their own. You can even incorporate content into this game by having students take a turn after answering a review question. Connect Four is a fun classroom game your students will beg to play!

Online Classroom Game #4
Snowman (alternative for Hangman)
Do you want to build a snowman? No, we're not watching Frozen, but your students will beg to play this word game for the virtual classroom. This inclusive, friendly version of "Hangman" lets your students build a snowman as they guess letters for a given word puzzle. Guess incorrectly? Add another piece to the digital snowman built in the online classroom games pack on Google Slides.

Online Classroom Games #5
Categories
Scattegories is a popular board game, and your kids will love playing these virtual classroom games which include a Google Slides version of the board game.
Pick a letter then ask your students to come up with words that start with that letter in a certain category. Categories may include: candy, snacks, sport teams, types of cookies, and more! Since the online classroom games already include the categories, all you need to do is share the slides with your learners and let them engage and have fun!

Online classroom games are perfect for a digital brain break, indoor recess, or even a fun way to build classroom community. I get so excited about sharing the virtual classroom games with students, and I know your students will beg to play them again and again!

---